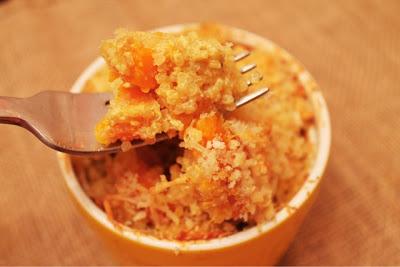 Eureka! I thought up the best quinoa dish while driving home this week! I am so excited to share it with you!
Quinoa Mac & Cheese
has been one of my most popular recipes of the almost two years I have been blogging. Not a suprise. It is healthy,cheesy and delicious! I took the idea of that dish and molded it into a complex and super easy dish that you can eat for lunch or dinner.
I like this dish because you can cook the quinoa ahead of time to packaged directions and chop and saute the butternut squash. I love love love butternut squash. It is so versatile ( think tacos,pasta dishes and soup!) Might I add, it is quite delicious in this quinoa bake! I love butternut squash even more when it is paired with blue cheese. Do yourself a favor and buy a really good hunk of blue cheese. Not those blue cheese crumbles crap. Those don't really taste that great. I bought a pretty large hunk of AMAZING pungent cheese at Whole Foods for $5 so great cheese is affordable I swear. If this is your first time eating quinoa this is a pretty safe way to try it. Who doesn't like a grain covered in cheese? Try it. You will love it!

Butternut & Blue Cheese Baked Quinoa
Ingredients:
1/2 cups of quinoa
1-2 tablespoons of olive oil
1 teaspoon paprika
1/4 cup of crumbled blue cheese
1/3 cup of 0% Greek yogurt
1/3 cup of parmasean cheese plus some for sprinkling
pinch of salt & pepper
2 large eggs
1 cup of almond milk or skim milk
1/2 cup of panko bread crumbs
2 cups cubed butternut squash
Directions:
1.Preheat oven to 350F.  Chop butternut squash into small cubes and saute with olive oil on medium heat. Sprinkle with salt,pepper and paprika. Saute squash until it is golden brown and tender. ( About 8 minutes.)
2. While you are sauteing squash, cook quinoa in a separate pot to packaged directions.
3. In a large bowl, scramble egg and add greek yogurt and milk. Then add cooked quinoa and butternut squash. Next add blue cheese and parmasean.
4. Combine and put in a casserole dish or individual ramekins and top with parmesan and panko and bake for 25-30 minutes. Bake for shorter time if in individual ramekins.