Do I need to write an intro about butter or simple naan here?well I don't think so :). I am yet to see a person who doesn't love this ever popular Indian flat bread..Though it cannot be claimed as healthiest of food,for sure nothing can beat its taste,and such indulgences should be allowed once in a while right.Traditionally made in a tandoor this naan is famous for its tempting charred looks and that wonderful smoky flavor.Yes a perfect naan is always cooked in tandoor,but don't worry there are numerous cheaters recipe to make that perfect naan in our own little kitchen.The famous method of making naan at home is to bake in oven over a pizza stone,or grilling I have tired both but none gave me such an impressive result as what I got yesterday.I have tried naan many a times,though could make an edible flat bread tasting good,I never called it a naan :). For me naan has to have that little smoky flavor with char.So yesterday when I made it I tried frying it on stove top and was really astounded with results.It was just like what we eat at restaurants.The trick is to knead the batter little loose and add flour as and when rolling the naan.I have mentioned different ways for fying i9t,do as per your convenience.This butter naan with schezwan panner gravy made our dinner a pure bliss.My sister kept on raving about it :)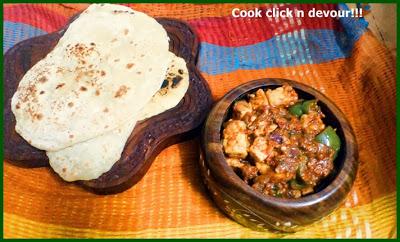 Butter naan recipe
Star ingredient:All purpose flour
Time:10+30+20 minutes
Yield:6
Here I have prepared naan.leavened by yeast,you can also prepare it by replacing yeast with baking powder and curd,but I am yet to try that.
Ingredients:
1 1/2 cup all purpose flour
1 teaspoon active dry yeast
2 teaspoons oil
1 teaspoon sugar
Salt
2 cups lukewarm water
Method:
1.Dissolve sugar in luke warm water and sprinkle yeast over it.Let it sit for 10 minutes for yeast to go live.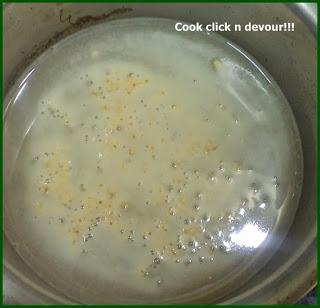 2.Now take flour,salt and oil.Mix well.Add the fermented water and form a loose dough.Do not over knead it.(Ref picture)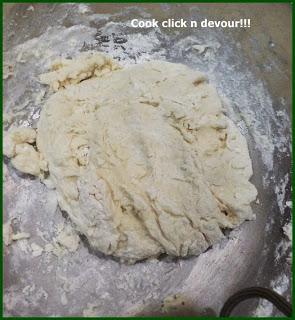 3.After 30 minutes the dough should have doubled.(but mine double up that much as the quality of yeast was not very good).
4.Now punch the dough back and take a small orange sized ball,roll it over adding flour as when required.Roll as an elongated circle as seen in the picture.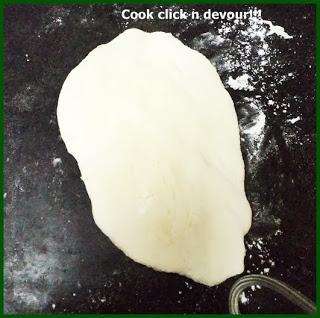 5.Fry on the tava from both sides with butter till chars appear.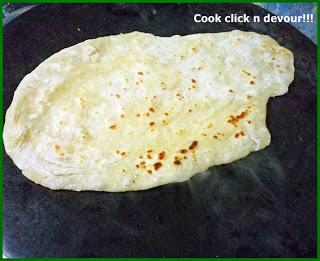 6.Serve hot with any gravy of choice.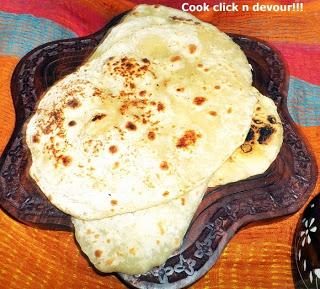 Notes:
1.Another method of doing this is,heat a thick cast iron tava,put a thick kadai reversed on it,fry the rolled naan over it on one side and fry the next side directly over the flame.
2.You can grill the naan in the oven also.