Today I am blogging about another easy Diwali snack which needs no roasting grinding etc.Murukku in Tamil is a twisted deep fried snack variety and there are so many many types in it.This butter murukku can be prepared in a jiffy if you have store bought rice flour and gram flour ready.It has a pale color and nice aroma and just melts in mouth.For those who all hurrying up with munchies for Diwali,a perfect fit for you,over to recipe :)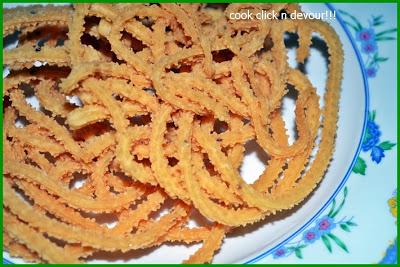 Butter murukku recipe
Star ingredient:Rice flour
Time:30 minutes
Yield:6 large murukku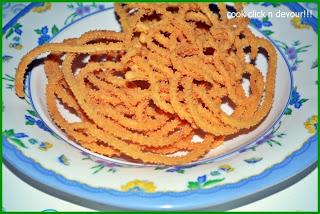 Ingredients:
1 1/2 cu rice flour
1/2 cup ram flour
3 tablespoons molten butter(hot)
1 teaspoon caraom seeds(optional)
Salt
Oil for deep frying
Method:
1.Take all the ingredients except butter and oil in a big bowl.Mix well.
2.Add the molten butter slowly and mix with your fingers.Add water slowly and make a pliable dough.Take care not to add too much water.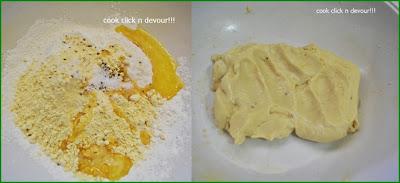 3.Heat oil in a deep frying pan
4.Take the muruku acchu(press) with star shape (mullu murukku achhu) and apply oil to the inner walls.Take a part of dough depending on the size of your press.
5.Press the dough directly to the hot oil,deep fry till golden brown on a medium flame.Once you press the dough in oil,there will sizzling sound,after some tim that will stop and the murukku will settle in oe place,that is the correct stage to remove,remove and drain in a kitchen towel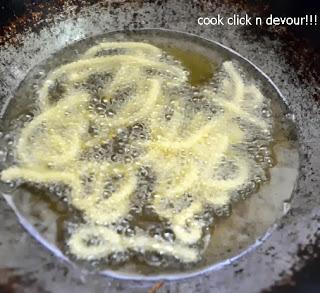 6.Cool and store in air tight box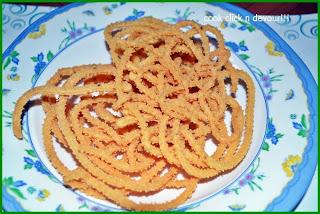 Notes:
1.After making the dough,wet your hands and pat the dough,so that it looks little wet and shiny.This will ease the process of pressing.Keep water in a small bowl and do this for all the batches.
2.If you are doing in a large quantity,after adding butter separate the flour mixture into portions,add water to one portion at a time and form dough.This will help to retain the correct color of the murukku
3.Generally omam (carom) seeds or chilli powder will not be added to this murukku,I just added as we like the flavor.
4.You can add 1 tablespoon roasted gram flour to the dough too.
5.Make sure to add hot molten butter for crunchiness.If the quantity of butter increases,murukku will turn out chewy.