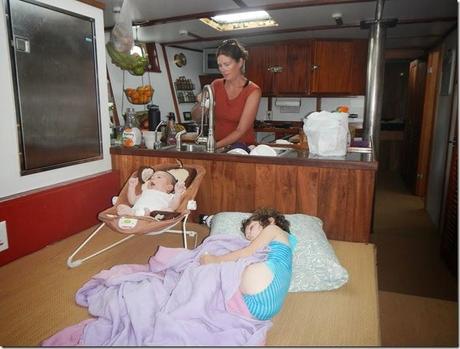 Well it's the 9pm, 1:30am, 3am, 4am, 5:30am oil. I know I can't really bitch, I live on a big sailboat with my lovely family. But we did think that having a new little baby onboard would be the same as if we were in a house and it is pretty much the same but there are issues we've come up against.
We had ourselves a bit of a good schedule going with the girls. Wake up 7am, we would alternate who would get up and let the other one sleep for another 30 minutes. make breakfast, school work, snack, play time, lunch, quiet time (I would clean and Carl would do project), fun beach time or run errands, dinner and girls in bed at 7pm leaving us with a few hours of couple time. Now that we've had a baby that has all been thrown overboard with the dinner scraps. Even as I write this I'm breastfeeding and typing with one hand. We have no free time for ourselves or as a couple. Don't get me wrong our little man is amazing but we are definitely watching the days on the calendar – well not really, we don't own a calendar and barely know what day of the week it is - and waiting for him to be 4 months old. 2 months is hump day but the real rewards begin a 4 months, I believe.
Life is getting to become a little more stressful than anticipated. The guilt I feel giving our little man more time than the girls is killing me. Having a grazer is hard work, he lives on my boob, so I've decided to take a breastfeeding break. I'm going to pump for a while and bottle feed.
………4 days later……..
Bottle feeding is working out great. He's a healthy little boy and I was giving him the right about through me but in small amounts thus the constant feeding. Now he takes a bottle about every 3 hours. This is working out better for us, Carl can give a bottle or me and now I have more time to cuddle with my girls. Pumping sucks but I know little man is getting the best. Carl flew to Nassau today (we were in Marsh Harbour) to get little mans passport so we are free to leave $8 oreos, tipping people to bag my groceries, little bugs and even maggots in my food, the land of no rain but also starfish, turtles, the memorable kind locals we've met on our journeys and those precious crystal clear waters – also known as The Bahamas. We love it here but the heat and high food prices are getting us down. We will be heading over to Stuart FL to pick up our code zero sail from Mack Sails then up the coast to New England to spend some time with the family and oh the cooler weather it is SCREAMING my name. We have rustled up one friend to do the stint from Stuart to New England, hopefully we can find another. I'll buy a better breast pump in Florida to streamline the feeding process even further. Can't wait to give our code zero a spin, our sails are so heavy they don't do so well in calm weather. A good note, I de-docked (if that's a word) from the marina in Marsh Harbour today and only scraped a couple of the pilings, getting better. I must say I did look pretty shit hot! I've also learnt how to raise the anchor by myself and leave the anchorage. That's under motor but I'm pretty sure I could do it under sail as well but that's another day. Carl is slowly squeezing his lessons in, he'll make a sailor out of me yet.
Before we head even further north of New England we'll have to address some issues with the boat like winterizing, welding closed port holes and replacing the 3 leaky ports in our room, replacing all our 12V batteries, fix our new Dickenson oven and a bunch of other stuff.
Little man is in bed so a bowl of icecream (our freezer rocks) and off to bed for me.