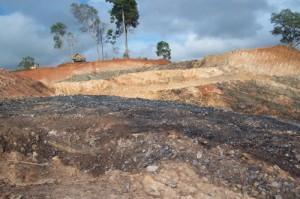 from Karen News
The Karen National Union (KNU) in Southern Burma has suspended a coalmine from operating in the Pawklo area, east of Dawei.
The KNU stopped the mine after listening to the demands local villagers made to the political organisations district leaders.
The KNU Mergui-Tavoy District 16th Congress that finished on the 19 October decided that the coal mine in Tha Nay Kler village area should stop operating after KNU township representatives pushed for its closure.
P'doh Saw Beeler, chairman of KNU Mergui-Tavoy District told Karen News.
"We consider the villagers demands requesting the suspension of coal mining in the Paw Klo area. We will time to investigate the issue and talk and listen to local people about their concerns."
The KNU permit granted to a Thai company East Star has been suspended, but sources claim the company still has a grant issued by the Myanmar government.
East Star is a joint venture with May Flower, a Burmese owned company, that was granted a 25-year concession by the government to mine for coal in the Paw Klo area.
Until the recent ceasefire between the Burma Army and the KNU, the Paw Klo area was a conflict zone – it is still under the control of the KNU. The company received permission from the KNU to mine in 2011. The KNU agreement states the company must renew its permit every year.
The KNU permit limits large-scale coal mining to a 60-acre area and states that the company is only allowed to mine outside village areas to avoid damage to farmland, waterways and the environment.
Villagers in the Paw Klo area protested against the company and alleged that the mining has destroyed their land and has had adverse impacts on village water sources. Villagers claim that they fear the polluted drinking water could have a negative impact on their future health.
Villagers in Paw Klo, submitted a letter of complaint on September 2 urging the KNU to stop coal mining in Tha Nay Kler village.
The letter submitted on September 2 to the KNU Mergui-Tavoy district office states that, "The East Star Company has failed to follow the agreement made between the KNU and villagers that it [company] will protect against damage of the environment and would not harm local lands and peoples' livelihoods."