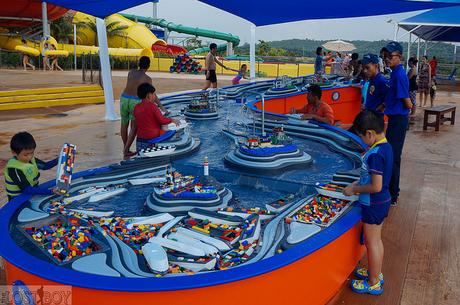 Just last July 2015, LEGOLAND Malaysia Water Park unveiled a new addition to its already awesome lineup of attractions, and I took my cousins to check it out.
Build-a-Boat allows kids to build their boats using unlimited LEGO bricks and lets them race what they made across a river. According to our friends from LEGOLAND Malaysia Resort:
The attraction provides a hands on experience, giving children the opportunity to use their creativity and bring their imagination to life. The interactive launch platform allows boats to race head to head against other boats, and boat hulls alongside LEGO bricks are provided for everyone to design and build their own boat to race.

The river, 11 meters long, also has dam breaks throughout to allow guests to control and change the flow of the water. The attraction houses more than 300,000 LEGO bricks to allow visitors to build any boat of their dreams, from a cruise liner to their own sail boat.
Although I was out of place among my cousins and the other young ones because of my age, I still had a fun time building and racing my big LEGO boat. Well, after all my visits there, I've always found everything at LEGOLAND Malaysia Water Park fun for all ages anyway.