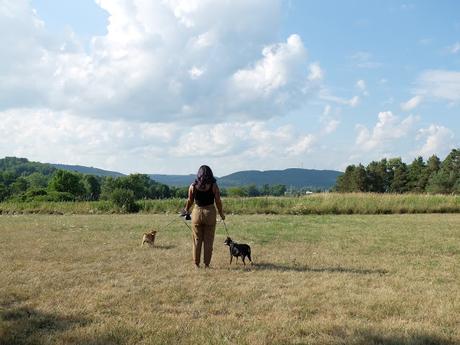 Hey Loves! 
I think it's about time I share our trip to Buffalo. My brother and sis-in-law moved out to Buffalo about a year ago. I haven't been up, so Danny and I thought it was a good idea to take a road trip. I mean, we have been aching to escape the city life for awhile now. Sometimes all the hustle and bustle makes you lose sight of all the fab things around you. It's nice to slow down every once in awhile. We drove up with the two pups (they're not puppies anymore but I still see them that way). It was super cute to see the dogs experience the "country life". It was actually hilarious. My dog Ellie loved it but his dog Achilles wanted to get on a plane and come back to the city. Well at least that's the vibe he gave us. 
We made a few stops here and there and 6 hours later, we arrived. In all honesty, I felt an instant connection- the moment I stepped out of the car I thought "wow, I could totally do this". I always consider myself a glorified "city girl" BUT Buffalo made the country life very appealing. I put together a little photo diary from our trip. My bro and sis-in-law took us to all the cool joints. We hiked the Eternal Flame Trail (which I thought I was going to die), took a walk through Canalside, hung out in Elmwood Village, saw the beauty that is Niagara Falls and did A LOT of thrift shopping (you know I LOVE to thrift). Oh and we ate Buffalo Wings, like actual buffalo wings. Well not actual buffalo but we ate at the original spot where buffalo wings were created! Cool right? Unfortunately the buffalo wings experience was NOT documented. 
Check out my photo diary!