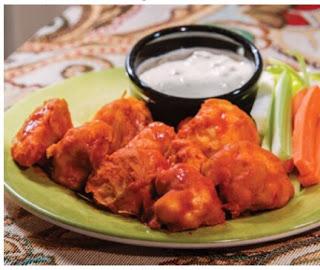 Sometimes recipes come along that just look too good not to share.  
As a vegan and a cauliflower lover, and someone who appreciates a little kick in her food every now and then, I had to share this recipe from VegNews Magazine.  
I happen to love basketball too, but unfortunately, the team I'd be rooting for didn't make it into March Madness.  There's always next year...
Vegan Cauliflower Buffalo Bites
With March Madness beginning tomorrow, we figured it was a good time to chow down on cauliflower buffalo bites from The PlantPure Nation Cookbook. Even the most carnivorous guest will love the blend of paprika, nutritional yeast, and Buffalo sauce, so don't blame us when these bites are gone within minutes. Sounds like a slam dunk to us! For more from PlantPure Nationand other must-read cookbooks, check out the special 100th issue of VegNews, on stands now!
Serves 6
What You Need:
1 cup vegan milk
1 cup whole-wheat pastry flour
1 teaspoon garlic powder
1/2 teaspoon onion powder
1/8 teaspoon black pepper
1 teaspoon paprika
2 tablespoons nutritional yeast
1 cauliflower head, broken into florets
10 ounces oil-free buffalo wing sauce
Vegan blue cheese dressing
Carrot sticks, for serving
Celery sticks, for serving

What You Do:
1. Preheat oven to 400 degrees. Line a baking sheet with parchment paper and set aside.
2. In a mixing bowl, whisk together milk, flour, garlic powder, onion powder, pepper, paprika, and nutritional yeast. Into milk mixture, place cauliflower florets and coat thoroughly.
3. Spread cauliflower onto prepared baking sheet. Bake for 20–30 minutes, or until light golden brown. Once cauliflower florets are crisp and golden, coat with buffalo sauce and bake for an additional 5 minutes.
4. Serve with blue cheese dressing and carrot and celery sticks.