I have been to Buddha-Bar Manila once for Globe Tattoo's TattAwards Nomination Night. There were so many people and socializing going on that night, so I wasn't able to enjoy the food entirely. Good thing, I was invited again, this time for an intimate dinner. Read more...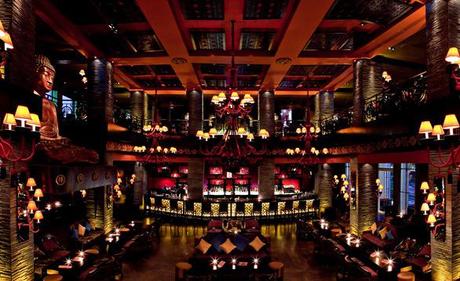 Buddha-Bar Manila, the moment I saw it, gave this imposing and grandiose aura. Getting inside confirmed my first impression—the three-floor restaurant and bar hybrid was entirely a visual spectacle. Painted with lush hues of gold and scarlet by Parisian painter Bruno Tanquel,  the sprawling interiors was fittingly decorated with mahogany furniture, beautiful wall mosaics, and dim amber lighting. An in-house DJ, meanwhile, spins a soothing and ambient music collection through their state-of-the-art Meyer Sound system.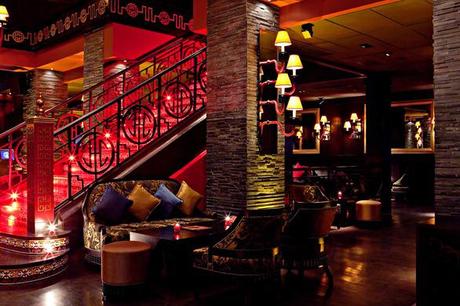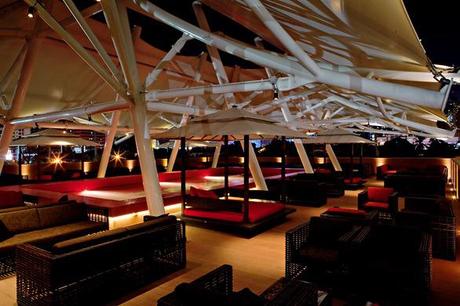 We were seated at the private room where the dinner was to be held. We were told that several of the dishes we were about to experience were from the menu of the original Buddha-Bar in Paris, with Executive Chef Soc Santos infusing her own influences.
Chef Soc then commenced the degustation with a selection of hors d'oeuvres that included the Pink Lady, Buddha-Bar Rolls, New Style Tuna Sashimi, and Shrimp and Avocado Jalapeno.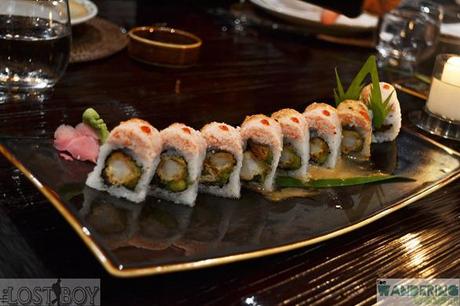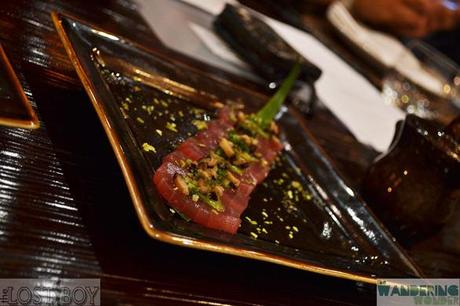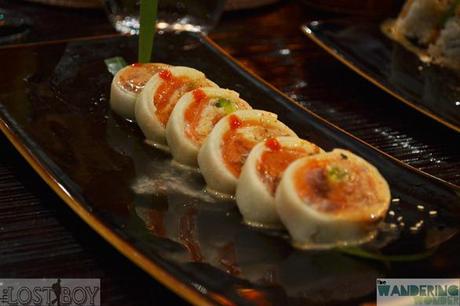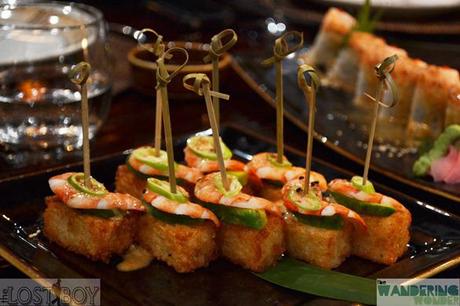 My favorites from what they presented to us happened to be both salmon-based: the Salmon Tataki and the Crunchy Rice Salmon. I actually found their seafood thankfully fresh and refreshing, and Chef Soc's take on Japanese unique and exquisite.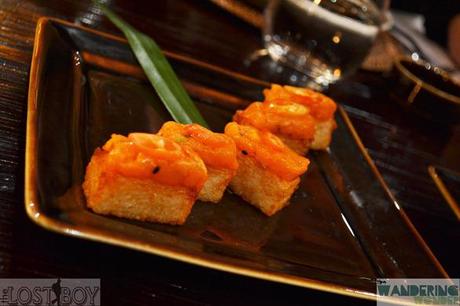 Then came the otsumami, which loosely translates to snack. Chef Soc presented to us a platter of their favorites, Chicken Yakitori, Petite Spring Rolls, Buddha Bar Fries, and Vegetable Samosa. The latter two were my picks for that round. The samosas were lovely and had a rich, tasty filling, while the sweet potato fries had a nice kick from the cayenne.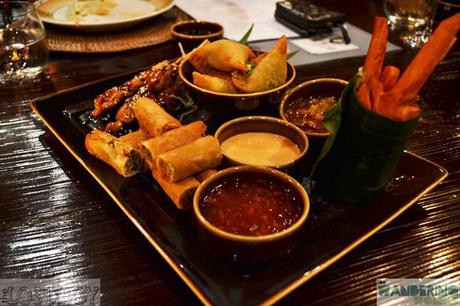 We were starting to get filled with all the food, but we obligingly had to leave room for Chef Soc's entrees. We were served Buddha-Bar Chicken Salad, Deep Fried Golden Duck Pao with Mee Bandung, Thai Style Red Curry Shrimp, and Shanghai Fried Rice.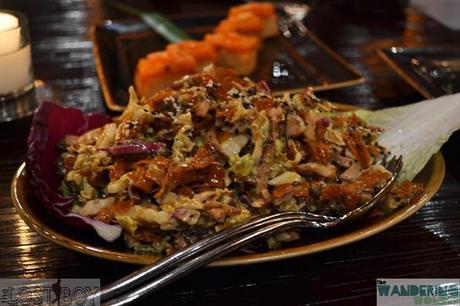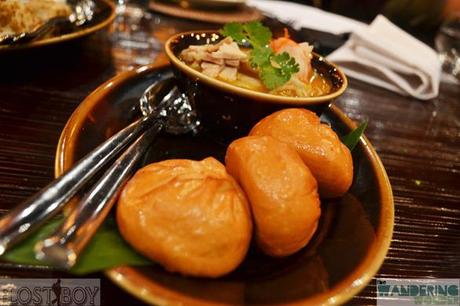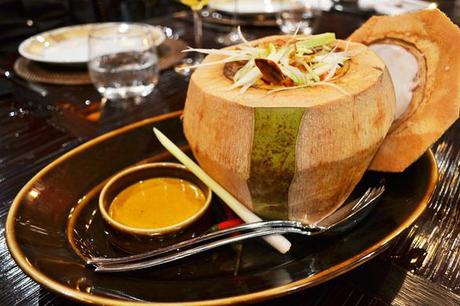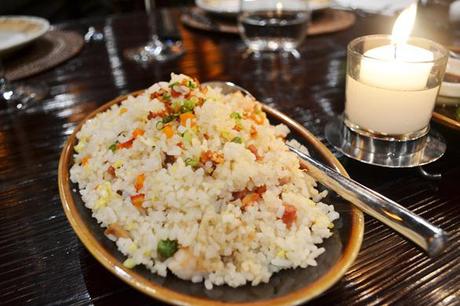 Chef Soc was absolutely right when she said that the deeply flavorful Crispy Boneless Chicken Wings with Spicy Ginger Sauce were to die for. I went for three helpings of the wings, actually. The Sea Bass with Tamarind Sauce was likewise piquant and noteworthy.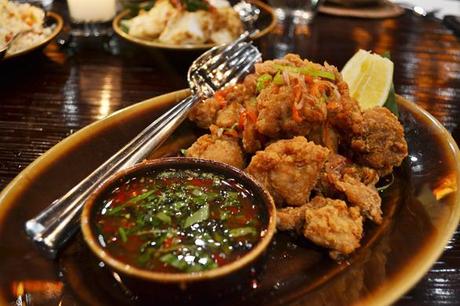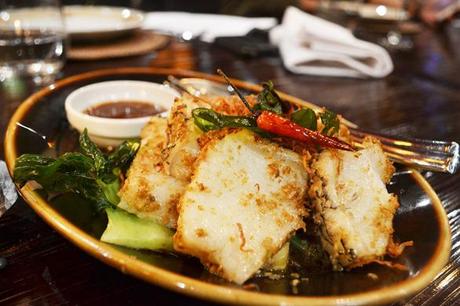 But of course the dinner must end with dessert. It was then did we have Chocolate Sesame Bars, Black Sesame Ice Cream with Seaweed Tuiles, Trio of Creme Brulees, and Warm Chocolate Cake with Praline Cream. Their dessert offerings were all good that it was hard to pick one favorite. All were so divinely delicious that I didn't stop myself from indulging.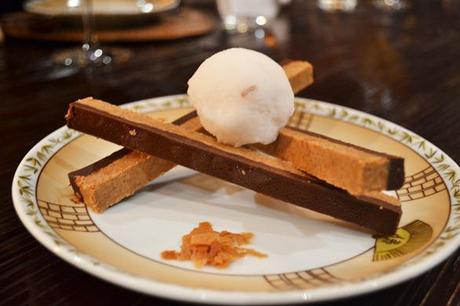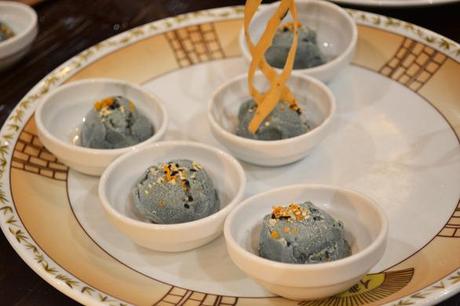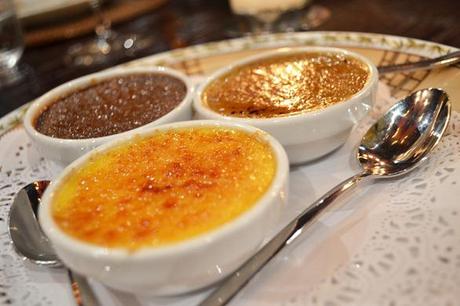 Verdict: I've always been under the impression that bar food means oil-laden, unappetizing chow that goes well with beer, but Buddha-Bar was a stylish exception. Their food was as exquisite as its interiors and were not mediocre at all. Chef Soc Santos did a superior job adapting the original Buddha Bar recipes whilst fusing her own Filipino and Asian flavors. It was one great dinner.
BUDDHA-BAR MANILA
Picar Place, Kalayaan Ave., Makati City
Hours: 12PM-2AM Mondays through Fridays; 5PM-3AM on Weekends
Contact: +63 2 856 6859 or www.buddhabarmanila.com
Note: Major credit cards and Philippine-issued ATM cards are accepted.