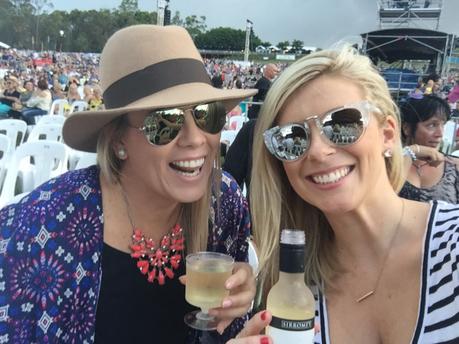 Last night Katy (of Katy Potaty) and I hit the hills of Sirromet Wines at Mt Cotton for my first A Day on the Green event to celebrate my brother's birthday, without my brother.
Due to a scheduling conflict, a touch of the flu and a dislike of tours which promote new albums (which it turns out this kind of was), the kid stayed home and left Katy and I to represent with our dance moves to The Superjesus, Baby Animals and Bryan Adams.
After a day of showers which prompted the promoters to close the Sirromet car park and tell everyone to either get dropped off/picked up or catch buses from local park and ride locations, it looked like our night would end like this: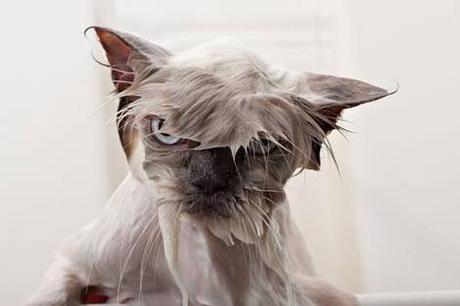 How we could have looked.
But, as is often the way, wearing wellies and packing ponchos guaranteed there was just a raindrop or two on what became a clear and warm night.
We also nabbed a sneaky park in a nearby (on location) golf club meaning we had just a short walk to and from the concert field for a speedy getaway after the show.
A Day on the Green was pretty much as I expected; a rolling green (turned slightly muddy from the rain) hill covered in people, bars and food vendors (noodles, dumplings, burgers and Arancini balls with prices ranging from $5 for three dumplings to around $15 for a burger and $8 for a mini bottle of Sirromet wine) and plenty of port-a-loos—although not enough to stop a line of women forming.
The toilets were clean and stocked with soap and toilet paper but they didn't have lighting inside which meant the moment you closed the door you were plunged into darkness. The 'fumble around for your phone and hope to hell you don't drop it in the toilet while trying to turn on the torch' kind of darkness.
But aside from that, it was pretty much like our own mini Glastonbury, minus the tepees, celebrities, bona-fide rock stars and VIP passes, although we did have platinum tickets which were close to the front, brilliant for people watching (and it was a mixed bunch as far as the crowd went) and we were in the center of the stage giving us prime BA viewing!
And Bryan delivered … sounding just like he does on the radio/CD/iPhone.
Although I was also a little skeptical about the new album focus (I blame Bruce Springsteen and his Wrecking Ball concert), Bryan nailed it, alternating new songs with his big hits including Summer of 69 (which surprisingly was not the encore), Everything I do, When You're Gone, Heaven, Have You Ever Really Loved a Woman, 18 till I Die, All For Love, The Only Thing That Looks Good On Me, Cuts Like A Knife and Straight from the Heart.
Feeling the love, and the wine, I threw out the idea that, for shits and giggles, I softly whisper Bryan Adams lyrics into the ear of the next guy who is lucky enough to find himself sleeping over. Obviously, Katy agreed this was an amazing idea!
"Baby, you're all that I want; when you're lyin' here in my arms; I'm findin' it hard to believe; We're in heaven."
Because it's so easy to find a date in this town that I can afford to risk scaring them off for purely comedic value.
Anyway, if you haven't yet checked out Bryan Adams' new album, Get Up, give it a listen. My pick is You Belong To Me.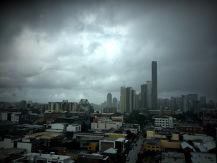 The forecast was gloomy with a hint of rain!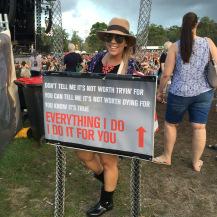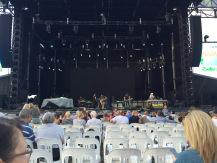 Talk about crap seats … Kidding! Hello front and centre!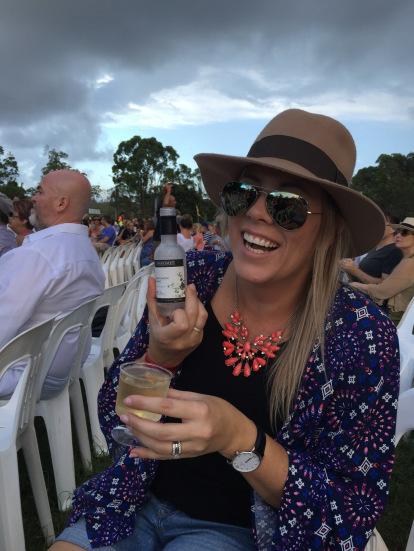 It's only right (allowed) that we drink local.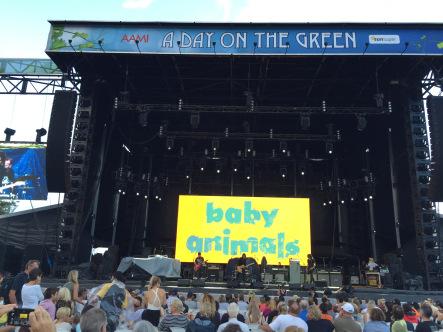 The Baby Animals were one of two support acts and Suze DeMarchi looked awesome for a 50-something rock star!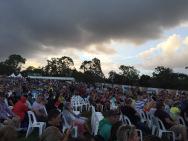 Rain, rain, go away …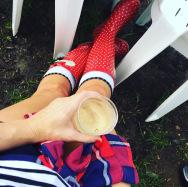 The essentials … Spots, stripes and checks; wellies and wine.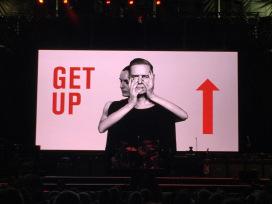 Get up … and dance!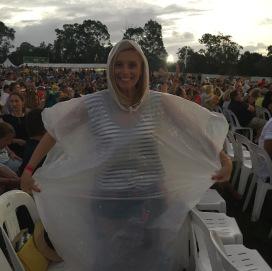 Two raindrops required a test run of the ponchos!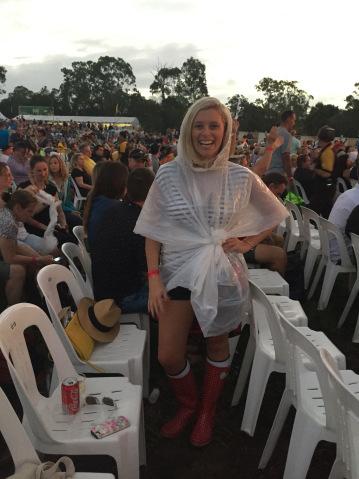 Poncho styling 101 (see below)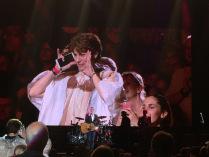 Why weren't we wearing these ponchos?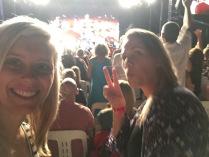 Yes, this is US with BRYAN ADAMS!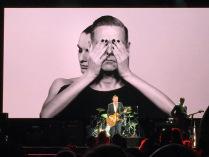 And, because I told Katy I could totally do it … here's four ways to style your $2 plastic rain poncho (please note this is me being silly, I'm not actually suggesting you need to style a poncho … the whole point is to NOT GET WET):
Loose and flowing (although with so much of my body covered by plastic, I feel a little like I'm in a sauna!)
They always say you should show legs or chest, not both, so flash a little flesh by tying it shorter plus … legs free for high kicks!
Belted on the outside to cinch in the waist, just in case a rock star is on the lookout for a new girlfriend.
My favorite … Tied up in the middle (or at the back) like a Camilla kaftan, pulling the excess fabric (plastic) in for shape. Sunnies for embellishment.
Finally, if anyone knows who the very cute (and ring less) police officer was stationed halfway down the hill on the way out (the one who intercepted Katy and I as we emerged from some trees, pretending we were lost) please pass on my number. Ta!