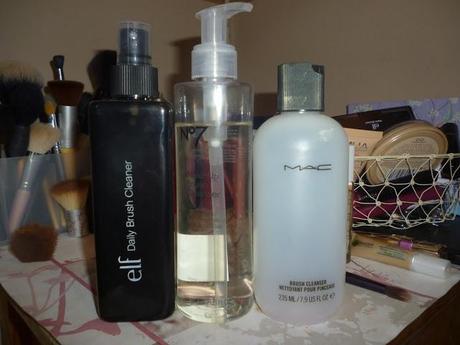 I always wash my face brushes with a face wash as these need much more of a deep clean, I have post here about that. When it comes to my eye brushes I like to clean them everyday as I am always wearing different eye shadows. This is where brush cleansers come in as they are quick and easy for on the spot cleaning. I have always been faithful to the Mac Brush Cleanser but I have recently tried some others and thought I would share my thoughts.
Elf Daily Brush Cleanser - This is a bargain brush cleanser at £3.75 so thought it was worth a try. This comes in a spray bottle which is really handy the only trouble is this doesn't do a lot for cleaning brushes. It cleanses them slightly but they still stay really stained and I just feel they are not clean enough no matter how much I clean them. It's a shame as this is an antibacterial spray so it leaves them hygienic but I find that's all it does.
No7 Make Up Brush Cleanser - I'm not sure how long this has been about as I had never heard of it before. This is £8 but only £5 with a No7 voucher. This is a good brush cleanser it takes a few times to get the brush completely clean and stain free, so its not great for quick cleaning. I think with the voucher this is with checking out but not sure it is worth the full £8.
Mac Brush Cleanser - This has gone up to £9.50! Last time I bought it, it was £8, Mac stop putting your prices up! Anyway moving on even with a massive price increase I still would buy this amazing product. This cleans your brushes instantly and makes them look as good as new. I am yet to find anything to beat it. Even though the price is steep it does last a really long time.
Have you got a brush cleanser you love?