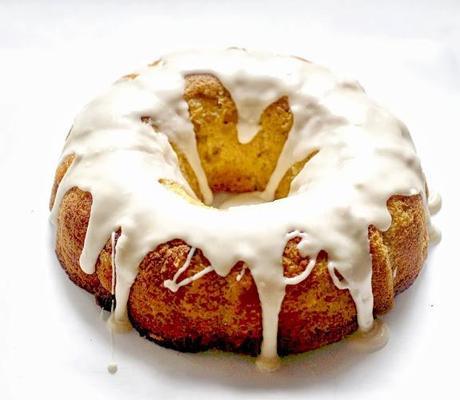 I love peaches and when our #bundtamonth group announced this month would be a peach theme, You could say it was peachy keen with me. LOL
This cake was moist and delicious. I used a box cake and was very surprised how well it turned out. The apple pie spice added a little extra yum factor to the plain old box mix. The peaches made it very moist.
You can make this recipe year round even if peaches are not in season. That was what I was looking to do. Also I had the canned peaches already in my pantry. So I decided to use the canned instead of the fresh which you can also use if you like. Just peel, seed and chop before you them for this recipe.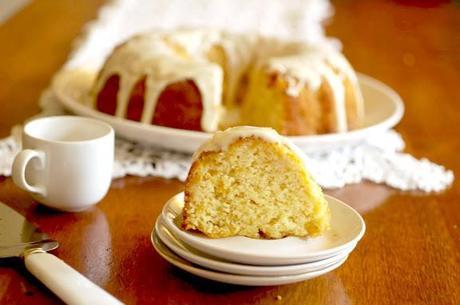 Print Recipe
Brpwn Sugar Peach Bundt Cake
Ingredients:
1 box yellow cake mix
1 can (8 oz) diced peaches drained
1 cup water
1/3 cup vegetable oil
3 large eggs
1 tablespoon apple pie spice
3 tablespoons brown sugar
4 teaspoons peach juice or milk
1/2 cup powdered sugar
Directions:
Preheat oven to 350 degrees.
Spray your Bundt pan with no-stick cooking spray.
Place about 1/4 cup of the dry cake mix in a small bowl. Stir in the peaches.
Combine the remaining cake mix, water, oil, eggs and apple pie spice in a bowl of an electric mixer. Beat on low for about 2 minutes. Fold in the peach mixture. Pour into prepared pan.
Bake for 1 hour or until a toothpick inserted in center comes out clean. Cool on a wire rack for 10 minutes before inverting onto serving dish.
Combine brown sugar and milk/peach juice in a microwave-safe bowl. Heat on high (100%) 20 seconds. Stir to dissolve. Whisk in powdered sugar until glaze is smooth and of desired consistency. Drizzle over cooled cake.
Here ís how you can be a part of Bundt-a-Month:
◾Simple rule: Bake us a bundt using peach
◾Post it before August 31, 2013
◾Use the #BundtaMonth hashtag in your title. (For ex: title could read #BundtaMonth: Caramel Swirl Bundt)
◾Add your entry to the Linky tool below
◾Link back to our announcement posts
Looking for inspiration? Hop over and check out these 15 gorgeous cakes
Balsamic Peach Bundt Cake by Kate from Food Babbles
Bellini Bundt Cake with Champagne Glaze by Stacy from Food Lust People Love
Brown Sugar Peach Bundt Cake by Veronica from My Catholic Kitchen
Caramelized Peaches and Cinnamon Bundt Cake by Anuradha from Baker Street
Cream Cheese and Peach Bundt Cake by Kathya from Basic N Delicious
Frangipane Peach Bundt by Sandra from The Sweet Sensations
Momotaro Peach Boy Cake by Kim from Ninja Baking
Peaches and Cream Bundt Cake by Heather from Hezzi-D's Books and Cooks
Peach Bundt with Raspberry Jam Swirl by Holly from A Baker's House
Peach Bundt Cake with Amaretto Cream Glaze by Roz from La Bella Vita Cucina
Peachy Buttermilk Bundt by Anita from Hungry Couple
Peach Cinnamon Swirl Bundt Cake by Lora from Cake Duchess
Peach Spice Bundt Cake by Renee from Magnolia Days
Peach Streusel Bundt Cake by Anne from From My Sweetheart
Vinho Verde Pound Cake with Peaches & Blueberries by Laura from The Spiced Life
Even more bundt fun! Follow Bundt-a-Month on Facebook where we feature all our gorgeous bundt cakes. Or head over to our Pinterest board for inspiration and choose from hundreds of Bundt cake recipes.
Peace be with you,
Veronica