Broomstick Lace Cuff Pattern
Yesterday, I finally got around to learning to crochet broomstick lace.  I found the pattern for this crochet cuff bracelet and I really wanted to try it out.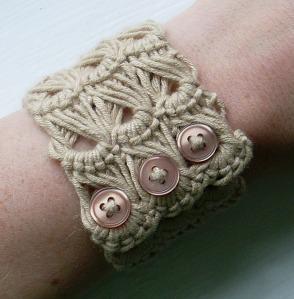 Broomstick Lace Bracelet Pattern
 Broomstick Lace Tutorial
The pattern also contains a photo tutorial for people who are left handed.  I tried to figure out the stitch from the photo tutorial but couldn't make it work.  So, I searched the web and found this video tutorial from Crochet Geek for broomstick lace.  After watching this video, crocheting the cuff was very simple!