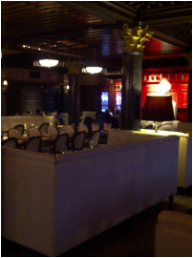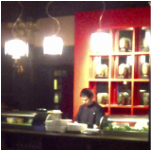 So I walked into this chic, budda-appointed Japanese restaurant in Brookline, MA and immediately pulled out my phone to snap some shots.  I quickly explained to the hostess that I'm a food blogger so she didn't just think I was a crazy tourist!  She asked what the blog was called, I told her "The Trendy Vegan", and she said "Cool!  I'm a vegan!  I'd love to read it!" We were off to a really good start...
---
I know I've written about Japanese food before but there were some nice alternatives for vegans.  The appetizers were the usual ~ seaweed salad, miso soup (with great big chunks of tofu) and mixed greens with carrot dressing which was sweeter and creamier than usual with the tiniest kick...interesting...
There was a vegetable section on the menu, something I'm more used to in Chinese restaurants.  Choices included sauteed chinese greens, mixed greens with tofu and string beans with pickled radish.  It was so good to see some variety!  There were also some great sounding vegan-friendly noodle dishes too ~ a Chow Fun, a wide soft rice noodle, with onions, scallions, bean sprouts and a sweet soy sauce or Udon Japanese noodles with peppers, onions, mushrooms, carrots, bok choy, scallions and bean sprouts in a satay sauce...yum!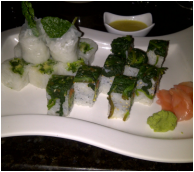 I have to admit though, if there's good sushi, that's what I'm ordering, and these choices were so interesting, that's what I did!  I ordered one Green Mountain roll ~ carrots, cucumber, avocado and asparagus topped with seasoned spinach (I left off the spicy mayo) and one QC maki ~ lettuce, avocado, cucumber, seaweed salad and Japanese pickles wrapped in rice nori with mango sauce (which I asked for on the side and didn't use.)  I was beyond full and it was so worth it!