No parts of the broccoli are wasted in making this soup; both florets and stalks are boiled and pureed. Pistachio butter is as good as it sounds!
You'll need:
- 3 tbsp chopped salted pistachios - 6 tbsp unsalted butter, at room temperature - grated zest of one lemon - 1 very large head of broccoli, about 1.5 lbs - 4 large garlic cloves - 1/3 cup cup chopped fresh basil
Lightly toast the pistachios in a small skillet until fragrant, 3-4 minutes. Put 4 tbsp of the butter in a bowl and mix in the pistachios and the lemon zest. Roll the mixture in a piece of parchment (I used cling film) to make a 1-inch diameter log. Freeze.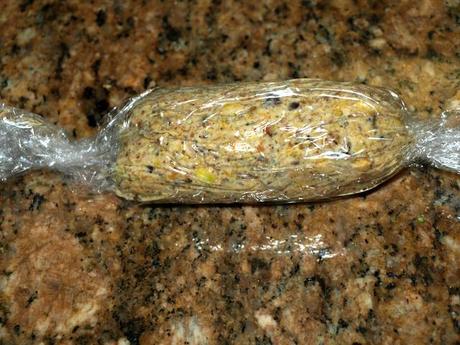 Remove the broccoli florets from the stalks. Peel the stalks; discard the bottom inch and cut into small pieces. Place in a 4-quart pot with the garlic, 6 cups water and 1 tsp salt. Bring to a boil. Boil for 10 minutes and add the florets. Cook for 8 minutes, add the basil and cook for 2 more minutes.


Transfer the broccoli, garlic and 3 cups of the cooking liquid to a food processor. Process until smooth. Add the remaining 2 tbsp butter and process again until very smooth. Reheat and serve topped with thin slices of the frozen butter.
Enjoy!