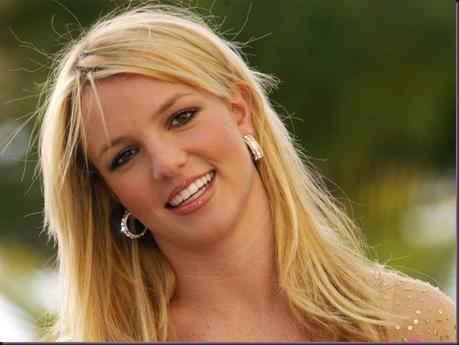 Britney is back!! The teenage superstar who hit the heights so early in her career, and then came crashing down to earth with an almighty thud, is returning next week with a brand new album called "Femme Fatale" due to be released on 29th March. So far her debut single release from that album "Hold it against me" shot into No.1 on the Billboard charts and the new album promises to propel Britney back to the top of the pop music scene.
Britney was born on 2nd December 1981 in McComb, Mississippi at 1.30am. She has a lively Sagittarius sun, a sociable Libran Ascendant and a glitzy Aquarius Moon. Britney has four planets sitting in the 3rd house of communication, the Sun, Mercury, Uranus which are in conjunction and also Neptune. Britney has definite need to communicate. She has a bright, lively mind, will be interested in technology or advances of some sort, so important in this internet age in connecting with the younger generations, and of course Neptune highlights a interest in artistic pursuits, music, dance and creativity. Britney has used the media (3rd house) brilliantly in the past to keep her profile in the spotlight. Complementing this is the Moon in Aquarius in the 5th house. Aquarius moons often bestow star good looks and in the 5th house there is an emotional pull to the entertainment industry and to children, of course Britney first hit stardom through the Mickey Mouse club – it all links up when you look doesn't it? Venus sits in the 4th house in Capricorn; Britney is a girl who needs love and attention, but away from the stage you wouldn't know it as she will have a cool demeanour. She would have come from a warm happy home and this is where she will return to when she feels in trouble as Venus conjuncts the South Node. Her mother will always be a source of comfort and stability for her. Mars sits in the 12th house in perfectionist Virgo and aspects both Venus and Neptune. A lot of the creative energy that has lasted her 20 years so far in the entertainment's industry comes from here. She will work tirelessly until she gets things right, often being irritable and awkward to work and live with, until she achieves exactly what she wants. One thing for sure, she's a girl who won't give up on her dream.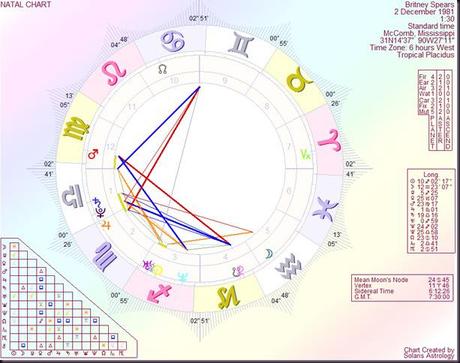 Finally I focus on Saturn, Pluto and Jupiter who sit in wide conjunction straddling the first and second houses. If you want to see Britney's career in a nutshell, just look at these 3 planets. Saturn in the first house is very exacting, making you very serious about all your endeavours. Here is a mature, even cold side to Britney, relationships will be difficult because of the inability to relax and turn off from her work. Here is the person who needed to grow up quick and so that childhood so necessary for a balanced adult life was compromised. The Saturn aspects Neptune, Venus and the Moon linking a disciplined interest into the entertainment world. Pluto conjunct Saturn also sits in the first house. Pluto in the first always indicated reinvention of the personality, a phoenix rising from the ashes. Here is the breakdown of Britney in her mid 20's unable to cope with everything that stardom threw at her. Here also is the transformation from teen star to sex symbol career wise and as Pluto is sextile Neptune the breakdown by use of drugs and alcohol needing rehabilitation.
Moving onto Jupiter which sits just into the second house. Pluto and Jupiter are always a sign of making money, and with Jupiter in the 2nd house, money is one thing Britney will never be short of, and she will know how to spend it big too. Jupiter also highlights the return to the top after the dark times. As the Solar Arc ascendant hit in turn Saturn, then Pluto then Jupiter you can see the life history progression. At 16/17 it hit Saturn and the child star became world superstar with all the heavy responsibilities of this, at 23/24 as it hit Pluto the breakdown forcing her to change despite some limited success with Pluto trine the Midheaven. Now at age 29 it has hit Jupiter which closely trines the Midheaven. Solar Arc Jupiter is also conjunct natal Uranus which is lucky and fortunate and will sextile her Ascendant next year. She returns probably bigger and better than before; this is going to be the year of all years for Britney and this time she will be able to handle it due to the experiences she had in the past. Good luck to her, the pop queen is back for one more time…