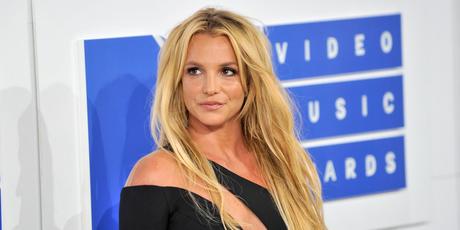 In an empassioned plea to the court, Britney Spears yesterday stated her case to be released from a conservatorship that she has been living under for the past 13 years. She has been effectively controlled by her father because she was judged to be unable to look after herself in the past. Now she has gone to court to get those impositions revoked.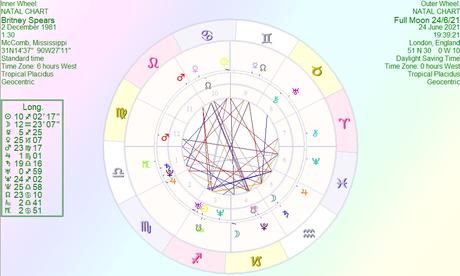 Britney Spears was born in McComb Mississippi on 2nd December 1981 at 01.30am and her chart sort of mirrors the Covid-19 lockdowns that we have all experienced over the past 18 months. The pandemic formed under a Jupiter Saturn Pluto conjunction that came together at the end of 2019, and Britney in her chart has the same dynamic, a Jupiter Saturn and Pluto conjunction all square to her natal Venus/South Node conjunction, with Venus ruling her chart - she has a Libran Ascendant. That triple conjunction lies square to her Nodal axis, and so is completely at odds with her life path. Venus conjunct the South Node shows the planet of love and values held in the past and debilitated, and the triple conjunction square to it shows her held in check and under some considerable administrative control.
That trapped Venus is squared by Pluto to less than a degree of orb so the level of control is suffocating, and it is in mutual reception with Saturn with each planet in each other's ruling sign. Even if the the square between the two planets is a wide one, it is enhanced by the relationship. Jupiter amplifies everything substantially and being in Scorpio, there is a manipulative element that is involved here too. Venus is in her 4th house in Capricorn, and so you get the image of her life controlled at home by her family, caught up and held by her previous behaviour.

Now her chart ruling Venus is caught up in another never ending aspect, a grand earth trine linked into Mars in Virgo hidden away in her 12th house and also trine to Chiron in Taurus in her 8th house. There is a ton of frustration here through that Mars in the 12th which is thwarted again and again in getting one's actions to be carried out (doubly as Mars is square to sacrificial Neptune), and a lot of hurt and wounding through her Chiron in Taurus linked to other people's values and control. Grand trines can see individuals caught up in a rut or in a never ending cycle if there is no outlet, and the outlets available for the energy circulating around it are via the square to the Jupiter/Saturn/Pluto and Mars' square to Neptune.

That Mars square Neptune acting from 12th house to 3rd does show a lot of charisma, but also a lot of potential mental chaos too. Mental clarity is something that Britney may not have a lot of, especially as her Sun, Mercury and Uranus also reside in the 3rd house of the mind. She will be rebellious, different, sometimes inspired but also sometimes utterly deluded, and if you have ever met anyone with a Sun Uranus conjunction in Sagittarius (and I count one of my best friends as one), they are mad as a hatter, but also complete and total fun too. I'd bet she sometimes acts in a way that is rebellious and she may go against most social norms, but that is often the way with Sun Uranus individuals. They shake the tree and are very misunderstood.

Now, this court appearance coincides with the Full Moon that I wrote about in the last couple of days, and I called the post "Breakout". That I think is utterly appropriate for the Britney situation, as the Sun Moon opposition for this Full Moon lines up exactly with her Midheaven/Imum Coeli axis. Transiting Pluto has moved around to conjunct with that trapped Venus/South Node conjunction promising a personal transformation in her home life. Saturn is now sitting on her natal 5th house Moon, her Midheaven ruler, indicating a person in authority will judge over her ability to self determination, and giving her the ability to explain the emotional impact of what she has been going through.

Jupiter is now trine to that Midheaven as part of the Full Moon picture, as well as being trine to her own natal Jupiter. It makes an adjusting inconjunct aspect to her Ascendant and a square to Uranus and Mercury, she carried out her evidence via video phone across the internet, and Uranus rules that 5th house of individuality. All the evidence, and remember Jupiter is the planet of justice, suggests liberty is coming, and finally she will be able to open out her life and live how she wants to.

Good luck to her, if as I suspect, the court judgement goes in her favour.

If you are interested in a consultation with me via Skype online, please get in touch. Thanks...