Today I am bringing you guys an exciting post. It's taken me a while to find some time to write this but I'm so happy I've found this spare time to let you all know about my experience of my very first bloggers event.
So many bloggers events are held up in London which although is only a train ride away..
1. Is quite an expensive train ride
and
2. Are usually on when I'm working.
So when I heard that Benefit were coming to Brighton I simply couldn't miss out! I had started to contact some other local bloggers (to my surprise I didn't realize how many local bloggers there were!) and soon enough I was excited to be meeting some lovely girls.
I met up with Laura from LolaAndBehold before hand which was lovely as I had no clue where I was going.
The event was held upstairs in a lovely bar called 'The Mesmerist' and the decor theme was that of an old school detective pad. With benefit fake up pillows (which I'm sure a fair few of us wanted to take home) displayed across the chairs and old typewriters and magnifying glasses on the tables, I knew I was going to have an amazing time. I met some more lovely bloggers when we arrived like Sophie from SophieRoseHearts, Rosie from Everything's Rosie, Lilla from Lilla Loves and someone who I've been following for a while Lauren from BelleDuBrighton. To start us off we had a little briefing of what the night was going to entail and then the lovely Lisa Potter-Dixon (I was a tad starstruck after watching her on QVC all the time!) she gave us the info on the newest product from Benefit their 'Fake Up' hydrating concealer. She then demonstrated how to apply the concealer in the best possible way.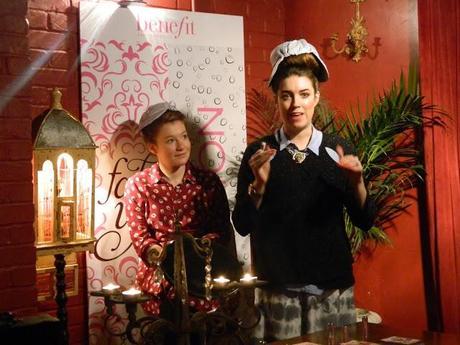 We were then shown other products such a 'Fine One One' and 'Hello Flawless'. Both of which have been on my wishlist for a while now. We then were color matched in the 'Hello Flawless' as we were told that we would each be receiving one in out goodie bag.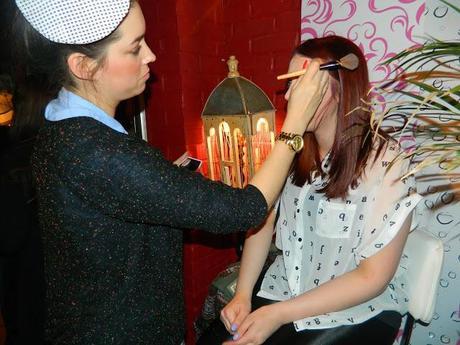 Sophie from SophieRoseHearts getting color matched
After everyone had been matched we had a little pop quiz and to my surprise I actually won, I never win anything. I was kindly given one of their new eyeshadow palettes which I will have a review of up shortly. Some gorgeous food and drink were served as well. We got a little hooked on the sweet potato fries and the drink was a lovely vodka fruity cocktail.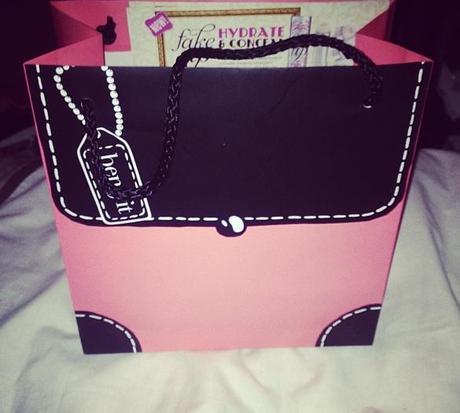 In our goodie bag we were kindly gifted all 3 shades of their new 'Fake Up' concealer which is released on the 30th March and will cost £18.50. I will have a separate post on these. We were also given the 'Hello Flawless' powder foundation.
I didn't take many photos and I totally regret it too. The next event I will definitely be getting snappy happy!
I had a lovely time and can't wait to meet up with all the lovely girls again. I'm sorry I haven't mentioned everyone in this post but if you was there and I've missed you out please leave a comment below!
Twitter / Instagram / Bloglovin'