Hii everyone,
So I just browsed through the latest collection of Exclusively & Pernia's, and I just HAD TO write a post about what I found. RIGHT THAT SECOND. Or actually after a little while, because putting all this together took some time. :P
Now before I begin, my heart aches as I write this, but I sort of went crazy shopping a while back. You know what happens when there's a fabulous sale at AZA. So yea, basically, I kind of have to control myself, because I'm on a self-imposed Shopping-Ban these-days. :|
But you should DEFINITELY seize this opportunity! These outfits are beyond gorgeous, and at such an appropriate price-tag. Have a look for yourselves, and in PART I, I'm listing the ones from Pernia's.
So, I'm starting with the Sarees, because well, you always need a couple in your wardrobe. :)
EKAYA
Is that a Turquoise and Green Ombre Banarasi Saree? That's like only the best possible variation of a Banarasi Saree. Completely traditional outfit in a gorgeous, offbeat shade! <3 - Rs. 12, 575
Ok, so now this might be just me, but I <3 Grey Sarees! They're so unconventional, especially this one, which is a Handwoven Chanderi Saree complete with multicolour digital rose print! - Rs. 13, 175
BHAVYA BHATNAGAR
And if traditional is not your approach, then I have another option as well. Wrapped Sarees have been all the rage recently, and what better than a Mauve one to add to your closet. Look at that exquisitely beaded sheer, lavender Blouse. This super-edgy look is perfect for various occasions, especially for those parties after the wedding. - Rs. 30,880
Or maybe you need a Lehenga for your Mehendi or any other family occasion, but not something which is over the top? Well, then Astha Narang's embroidered Lehenga will have you covered without the added requirement of big bucks. This Red & Beige Lehenga is absolutely dreamy, plus how cute is that big bow at the back? -Rs. 29,000
DIVANI
Oh my! Chantily Lace Bodice embelished with gold crystals? YES! On a Peachy pleated tulle like Gown? YES YES! This is the perfect outfit for Engagement Ceremony, or even your Reception. - Rs. 26, 990
BHUMIKA SHARMA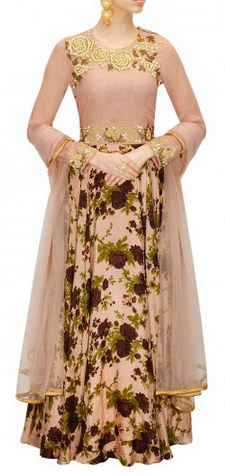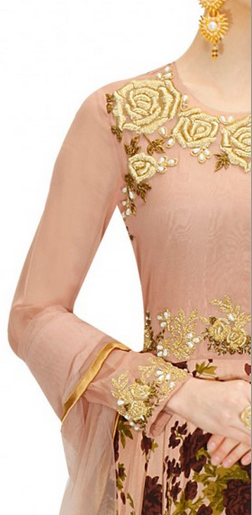 Ohk, so if you ask me, this woman can do no wrong. I just love ALL her designs, more so because they don't carry an extraordinarily heavy price-tag! This Floral Anarkali looks absolutely chic, with the right amount of drama added by the gold embroidery & pearl detailing on the neckline, cuffs & waistline. -Rs. 30, 500
Also, if you like Florals, but feel that this ensemble seems overpowering, then you should definitely check the rest of her selection. She has so many other lighter options, some of which I'd previously mentioned here.
PERNIA QURESHI
Moving ahead, besides all the heavy stuff, we do need some sizzle for that oh-so-fabulous Honeymoon, right? But nobody wants to spend crazy money on such outfits, so I found 2 ultra-fabulous options under 10k! <3
BHUMIKA SHARMA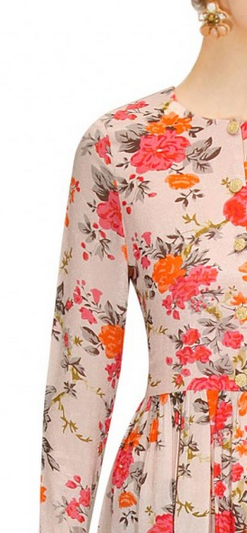 Honeymooning at a Beach destination? Pernia Qureshi has certainly hit the right note at that, with this multi-coloured Maxi Dress with cape sleeves, deep V-neckline and front slit. Walking around in the sand is going to absolute perfection with this outfit. Oh, and it's for Rs. 10,000!
Oh, & here's another awesomeness by the Magic Woman. There are just so many ways that you can style this Cape! Besides how it's shown here, you could even wear leggings under it, throw on a simple dupatta & voila- you have an amazing pleated floor-length suit ready! You know those days when you're rushing out but don't know what to grab which makes you look fab in a minute? This definitely shall have you sorted on those days. -Rs. 8,500
I would love to hear about the outfits that you liked from this selection, so please let me know in the comments below. Also, if you'd like more options, then stay tuned. Part 2 of my Online Wedding Trousseau Hunt shall be uploaded very soon, which will list all my selections from Exclusively. ^^'
Love,