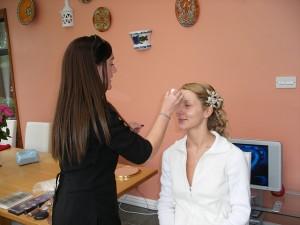 CC: Image source
A bride is often under a lot of pressure in the days leading up to her wedding. Things like the cake, dress, and numerous other preparations can be nerve wrecking. The objective of wedding makeup should be to accentuate the features that make you look good while at the same time dimming features that are not attractive. The perfect professional wedding makeup artist will remove almost all defects and emphasize the qualities of a woman's face while maintaining her radiant and smooth skin. Many wedding makeup artists tend to go a bit overboard with their makeup, which ends up making the bride look as if she was made from plastic. Almost all experts believe that wedding makeup shouldn't be based on the latest trends because trends change, it just should be beautiful.
What makes wedding makeup so difficult?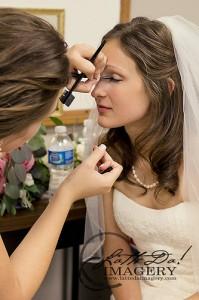 CC; Image Source
To the casual onlooker most brides look as if they are hardly wearing any makeup. This is mainly because wedding makeup is supposed to be neutral and simple but this is what makes it so difficult. Designing the right look without using too much makeup while at the same time hiding imperfections and not using a lot, is difficult. That said the makeup also needs to last the entire day through lots of dancing, hugging, crying and kissing. Artists may want to use waterproof mascara and lipstick that does not run easily.
Brides who are getting their makeup done by a professional artist need to make sure to tell the artist what they want from them. For instance, some brides may want a bolder look, using specific colors that match their hair, and clothes. Make sure to make an appointment with the artist and discuss everything you want before the big day.
Adding a bit of glow
Adding a little bit of soft shimmer will give your face the final touch. However, it is important to understand that there are some powders and foundations that look different in pictures mainly because of the way they reflect light. In order to avoid a situation where your photos turn out bad even though your makeup looks good, ask a friend or the professional doing your makeup to take a few pictures of your face. Then check to make sure that it does not look different from other parts of your body and that the tone looks even across the face.
Before the wedding day preparations
If you are in the process of getting facial treatments you need to get them many days prior to the wedding. At times your skin may look rather irritated for a few days post treatment. In order to avoid a surprise like this it would be a good idea to get the treatment a week before your wedding. You may also want to get your brows plucked and also shaped a week prior to the wedding, because plucking them on your wedding day can end up giving your eyes a swollen or red look.
Women who are going to get married with contact lenses on should put on their lenses prior to getting makeup applied. Women are also strongly advised not to take too much stress. Many expert makeup artists strongly believe that stress causes impurities on the skin. If you have these impurities you shouldn't pick at them as it just makes things even worse. Make sure to put on a clean pillow case every day and drink lots of water. You may also want to avoid excess milk, carbonated beverages and sugars, this is because your body certainly reflects what you're eating.
Use Concealers to hide imperfections
Use green to neutralize redness
Use yellow to neutralize blue as in dark circles
Use lavender to neutralize yellowness
Tip: You should apply colored concealers only prior to applying foundation for best results.
For perfect skin
You should ensure that the foundation really matches the tone of your skin. You should check it using both artificial and natural light.
The foundation of your makeup can be set using powder but you need to be sure to apply just enough so that you don't get cakey results. Ideally, you'll want to use translucent powder.
Citations:
Get professional bids on your local service requests, for free with BidsByPros.com

Stop searching! Start Selecting!
Manu is an experienced wedding makeup artist mainly working out of his saloon in Sydney. He also works as an onset makeup artist for various film production projects.