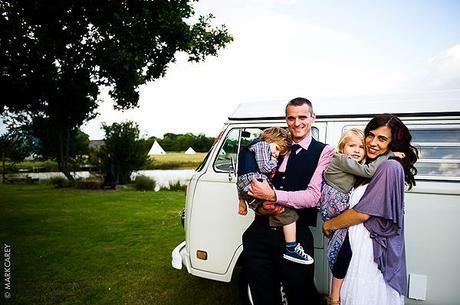 I would shout from the rooftops about making your wedding personal to you, about sidestepping tradition and making a wedding a celebration of who you really are. Today, I don't need to: Tanya and Andy are showing us exactly what that means and how special and perfect it can be.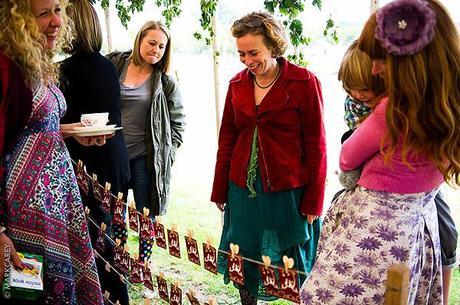 Time for Tanya to take over with the second part of her wedding report. Reportage wedding photographer Mark Carey supplies the beautiful images of the day.
Enjoy!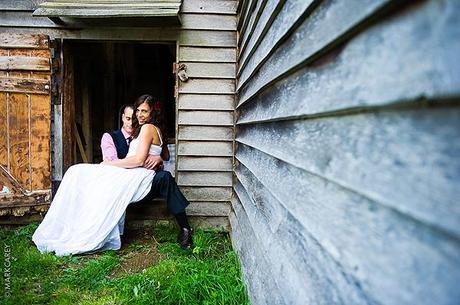 "Brick House Farm is such a special venue, laid back and rustic, with the most divine food and picturesque setting. It was just perfect for the informal wedding we wanted.
We also loved the fact that it offered our family and guests the opportunity to camp with us. Andy and I stayed in the farm's gorgeous Fishing Shack (warmed by a log burner, so cosy!). I can't begin to explain how amazing it was waking up to the view of our wedding reception being set up in the marquee across the lake.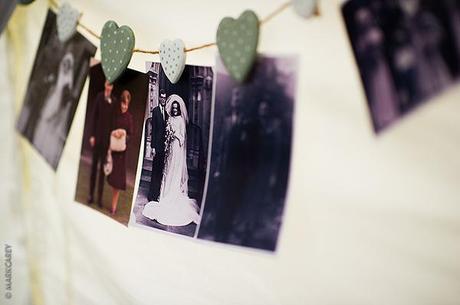 We both wanted the day to be very relaxed, we weren't worried about following all the traditional formalities of a wedding day. We wanted to feel ourselves in what we wore, I didn't want to wear a traditional wedding dress and Andy didn't want to wear a suit, I loved the idea of cotton summer dresses with a bohemian feel for the bridesmaids and even combats and converse trainers for our son (this looked so cute with his shirt and waistcoat!) So we decided to add a dress code to our invitations "Dress code ~ smart casual, ties and suits optional" We felt this way the men that weren't suit wearing types could come in how they felt comfortable and nobody would feel overdressed for the type of day we had planned.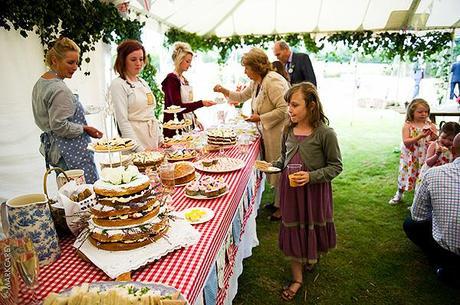 For our meal we had a hog roast and buffet, and Brick House Farm made us the most beautiful rustic wedding cake decorated with sprigs of lavender to match my bouquet.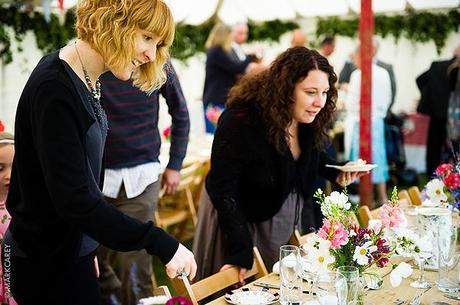 With two small children we always knew we wanted all our family and friends kids at the wedding, and with a guest list of around 50 including 18 children we saw our reception as a chance to catch up with all our favourite people and have a party in the most amazing setting. With lots of the guests camping, a rustic bar, the games, the bonfire and live music the day felt like a mini festival just for our family and friends!
On arrival back at the farm cricket teas were served in mismatched china, a selection of sandwiches, cakes and tea, it was perfect!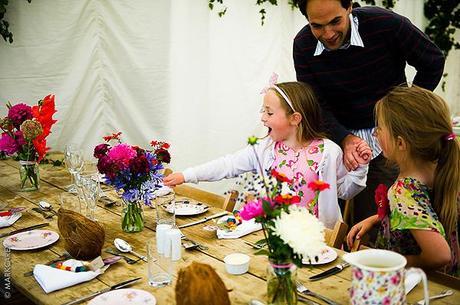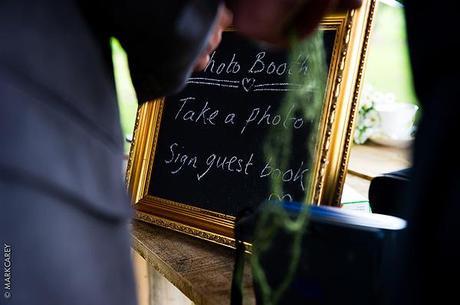 For a bit of fun, we had a photobooth guest book, which consisted of a huge floral tablecloth hung from a tree for a backdrop, an instant camera and chalk board speech bubbles (that Andy made) for our guests to write comments on. It worked really well and we have some wonderful snaps in our guest book!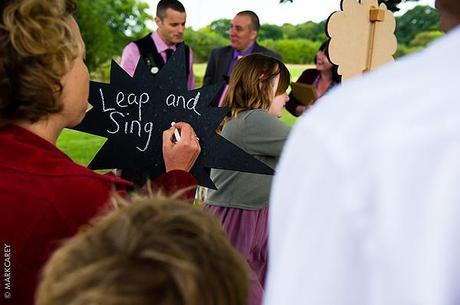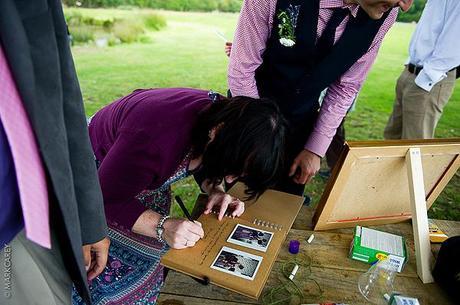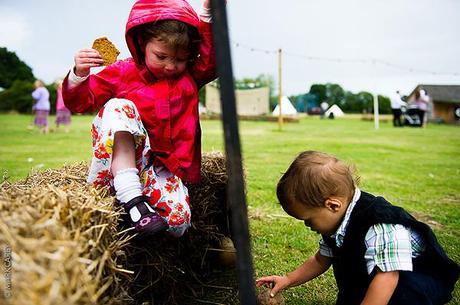 There were lots of games to entertain the guests, croquet, a coconut shy and lots of good old fashioned toys, including egg and spoon race, skipping ropes and hoola hoops.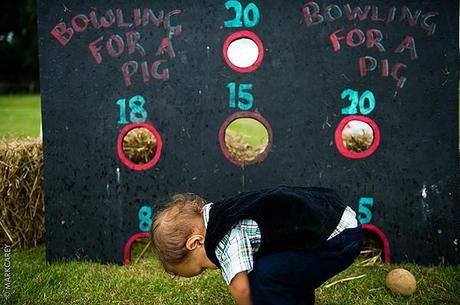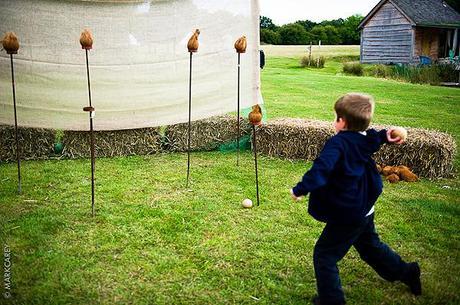 On the tables in the marquee, instead of place names, I came up with the idea of having place puppets of the guests! so instead of looking for their name, everyone took great delight in looking for themselves! They doubled as a great way of keeping the kids amused during the speeches and the kids also loved using them in the puppet theatre we made for the marquee.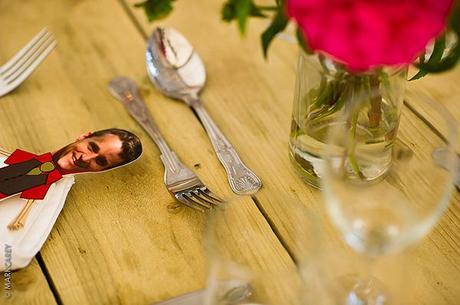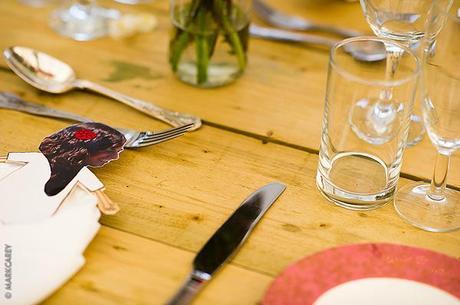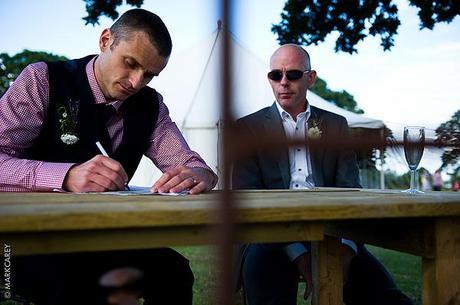 Andy's waistcoat and tie are from Austin Reed. He wore a shirt from Reiss and trousers from John Lewis.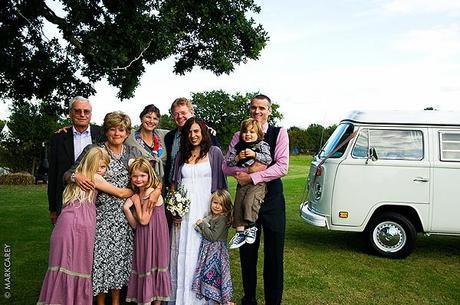 I bought all the gifts we gave our wedding party from Folksy shops as I liked the idea of keeping everything handmade. Just some of the gifts were… heart pendants filled with dried lavender for our mums (to remind them of the day as there was lavender in my bouquet and the buttonholes) and one of these Earthworks journals for our best man, they are handmade to order and they even beautifully carved his initials into the leather, a lovely personal gift.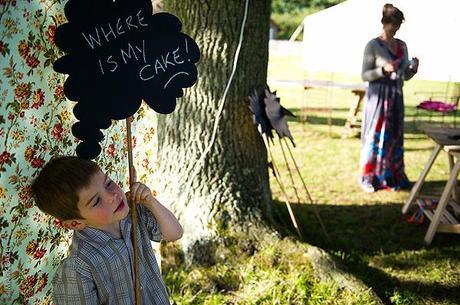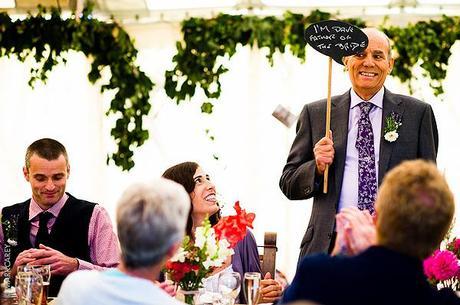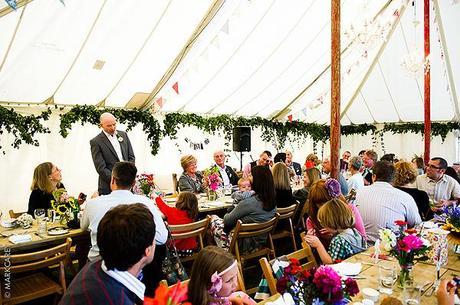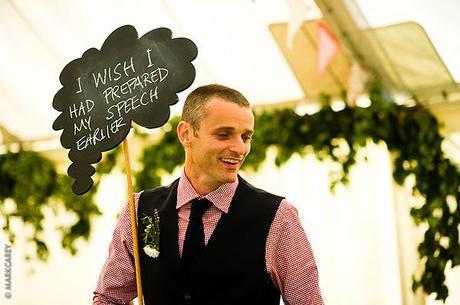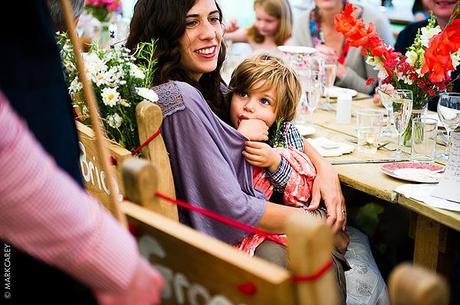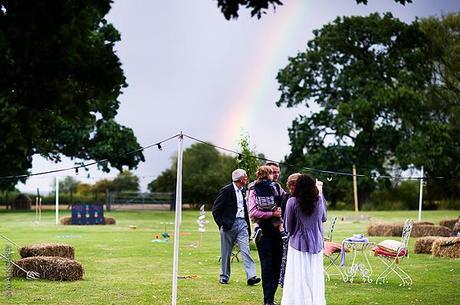 We wanted a small, relaxed, kid friendly wedding that the kids would enjoy as much as the adults, and I think we totally achieved that. It was definitely the perfect wedding day for us!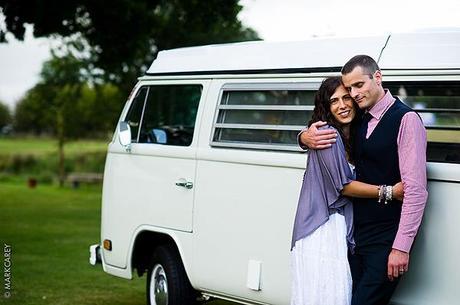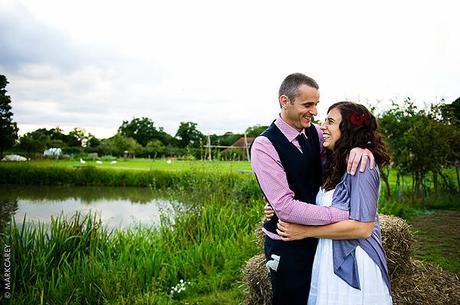 My necklace and hair clips are from Folksy.com, my bracelets from Marks and Spencer and Monsoon.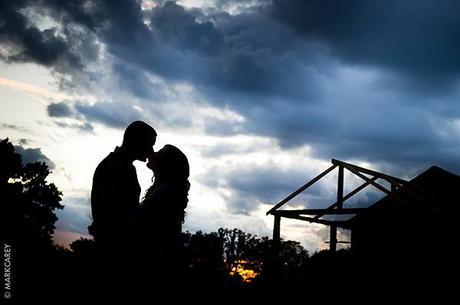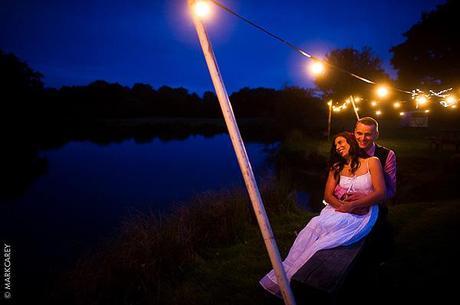 As we came to the end of the meal, 'Thrill Collins' our evening entertainment, started to play, (a young skiffle band that play 80's and 90's covers) and what a fabulous find they were, I cannot recommend them highly enough for a wedding, as soon as they started playing the guests couldn't keep still! I challenge anyone to keep still to their music!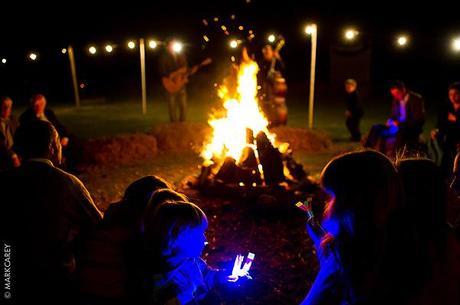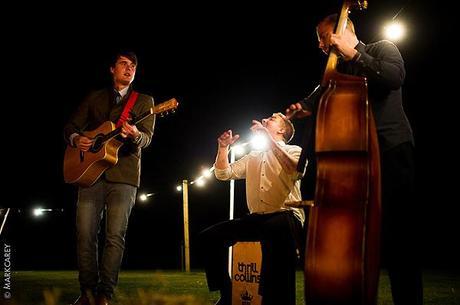 Our band, Thrill Collins on realising a bonfire had been lit outside for the guests to sit around, they asked if we wanted them to play around the fire. On saying yes they literally unplugged, ran to the fire and started playing to the guests! it was a truly magical end to the evening.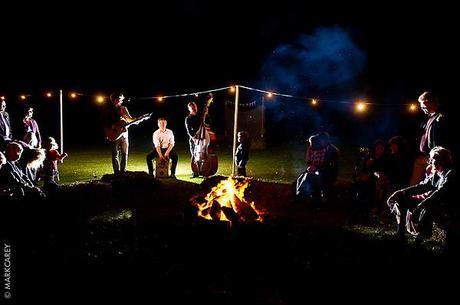 I asked Tanya what single piece of advice she'd give to brides and grooms reading this blog. She told me, "Have the wedding you want, choose all the things you love, include only the traditions you feel are important, stay true to yourselves and you can't go far wrong."
Tanya and Andy's recommended wedding suppliers
Reportage wedding photography – Mark Carey
Wedding venue – Brick House Farm, High Halden, Kent
Flowers – by Bloombox
Band – Thrill Collins
Florence the Campervan
Hair clips – Wychbury on Folksy
Adult Bridesmaid's Dresses and flower girl's dress – Monsoon
Children's Bridesmaid's Dresses – Ilovegorgeous
Bridesmaid's sandals – Fatface & Next
Heartfelt thanks again to the lovely Tanya for sharing such a wonderful wedding day story. I hope you've enjoyed reading her tips and ideas – and we'd love you to comment below

Thanks also to reportage wedding photographer Mark Carey for submitting Tanya and Andy's wedding photos for English Wedding blog. Find out more about Mark Carey here: www.markcareyphotography.com
There's just a little bit more from Tanya and Andy's wedding coming up on the blog tomorrow… an inspiration board with exclusive pics and gorgeous details we haven't seen yet!