If you are anywhere near Mendocino County, get out there and help!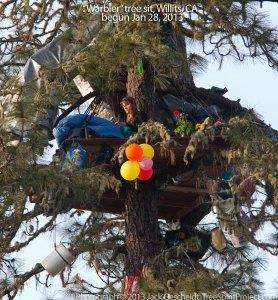 Willits, CA-Opponents of the Caltrans Willlits Bypass through endangered wetlands are converging on the site to protect a tree-sitter as dozens of California Highway Patrol vehicles arrived at the Bypass protest area in Willits in Mendocino County at 7 a.m. this morning. CHP officers began cordoning off the access roads to the area, keeping a gathering number of protesters and witnesses away from the tree-sit and Caltrans' proposed construction area. The 24-year old local farmer in the tree who calls herself "the Warbler" has been aloft next to Highway 101 since January 28.
Four arrests have been made of Willits residents, and the situation is still actively unfolding. Another Bypass protester has been standing in front of the brush crushing machine that is in the jurisdictional wetlands and has repeatedly blocked it after having been removed several times without arrest. Caltrans' permit process is not complete with regard to the Migratory Bird Act, in effect until September 15 for the nesting season.
Updates will be released as the situation unfolds.