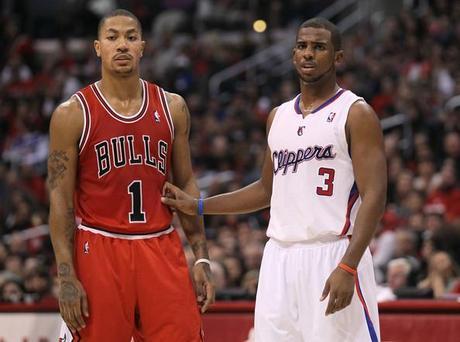 Photo: chicagonow.com
- Adam Parker
The Point Guard. The NBA's version of the NFL quarterback, which many people will tell you is far and away the toughest position in professional sports.
This NBA season (though abbreviated because of the lockout) is now well underway; and in recent seasons, the quality of point guard play has risen to the point that many consider right now as the 'Golden Age.'
Point guards across the league, whether it be the savvy veterans and future Hall of Fame talents like Jason Kidd and Steve Nash, or some of the younger crop like a Deron Williams or Derrick Rose, have equally been filling up the stat sheet across the board.
No longer is a point guard only asked to run a team and make plays for their teammates. No, in this day and age, point guards have to get their own while also keeping their teammates involved and happy. It can be a difficult task, but it's something that the truly
elite
 point guards don't shy away from and are capable of doing every night on the floor.
The golden age of the point guard, indeed.
Let's take a look at Beard and Stache's top five current NBA Point Guards!
#1 Chris Paul - Los Angeles Clippers:
I'll be honest, Paul's stock has been helped by the fact that he has two high-flying running mates in L.A. Having Blake Griffin and DeAndre Jordan to toss alley-oops to has obviously made CP3 look better than he actually is, right? Wrong. Paul is a total stud. He picks defense apart like Peyton Manning and Tom Brady.
He can hurt you with his pinpoint passes or score on his own with his creative array of moves around the rim and his smooth jumper. One also can't forget that Paul has that 'playoff magic' in him as well, which seems to be good for one series a year at the minimum. Add in the fact that this guy is already the best point guard in the league at the ripe young age of 26 and you can see why he's our clear choice for number one.
#2 Derrick Rose - Chicago Bulls:
Athletic. Creative. Smart. Young. All words that best describe the league's reigning 23-year-old MVP and face of the Bulls' franchise. This guy is the definition of a one-man show offensively. I thought the off-season acquisition of Richard Hamilton would help, but he's been in and out of the lineup with injury, but the Bulls continue to lean on Rose heavily.
That leaves Rose where he's been since he entered the league as the top overall pick in 2008 - alone. Rose does it all for his team, and sadly, on many nights he usually has to. The reigning league MVP may be young, but he's also a quick study and a jack of all trades. There really is no way to defend this guy, and because he's so dangerous, he easily earns this number two slot.
#3 Steve Nash - Phoenix Suns:
What more can really be said about the 37-year-old future first ballot Hall of Famer? Nash is a player that defies all logic. In cases where most players his age are either starting to fade into irrelevance or outright retire, Nash is still getting it done and continues to prove that, like fine wine, he gets better with age.
Nash is a master floor general and one of best pure shooters in the NBA. He's a former back-to-back league MVP and is arguably still playing at a level similar to his MVP seasons today, and you'll understand why he not only
makes
the list, but he's also the third best point guard in the entire league.
#4 Deron Williams - New Jersey Nets:
D-Will is what we like to call a pro's-pro. He's not overly athletic, but he makes up for it with his smarts and hard work. Brook Lopez's injury has made D-Will's situation very similar to that of D-Rose in that they both have to shoulder the bulk of the offensive responsibilities for their respective squads. Williams has more than proven he's up to the challenge.
He's a very versatile point guard who can be effective in any type of offensive system you can think of.  Deceptively quick and strong enough to bully smaller guards in the post. This former Fighting Illini has every tool in the box and knows when to use them, there's no question about that; that's why he's at number four.
#5 Russell Westbrook - Oklahoma City Thunder:
The young former UCLA Bruin is more of a combo scoring guard at this point with freakish athleticism, but he continues to progress with his learning of the point guard position. He and Kevin Durant are still trying to figure out their Batman & Robin relationship, but they have plenty of time as both Durant and Westbrook are locked up long-term.
Westbrook may not be your typical point guard, but he's perfect for what the Thunder need, and as long as he's playing for them that's all that matters. Oh, and did I mention that he's a bull defensively? Westbrook is a great fit for number five.
Do you agree with our top five point guards list? Who would you rank where? Let us know in the comments!
Clippers Tickets
Clippers Playoff Tickets
Be sure to follow Beard And Stache on Twitter 
@BeardAndStache
, 
and also Adam 
@Adam_Parker43
, Like our Facebook page 
HERE
!