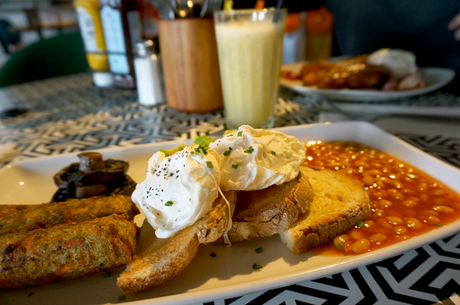 Have you ever seen a restaurant attached to your local supermarket? When I saw that Tesco were shutting down their cafe and replacing it with a "Giraffe" restaurant I had no idea what to expect. At the time I had never heard of this said Giraffe restaurant but after a quick Google I discovered it was a chain restaurant with promises of a friendly environment with food to make you smile. I managed to find a voucher online for buy one get one free breakfast so it wasn't long until we headed down (it's always worth checking out the promotions section of their website). 
At first I was unsure of the restaurants location, as it's on a busy road which can be a nightmare at rush hour. However, with the offering of free parking a stones throw from the doorstep it is only a small price to pay. Once inside I completely forgot I was sitting inside an ex-Tesco cafe as it has been completely revamped. It hasn't lost all it's connections to the supermarket though as near the far side, I noticed a small hatch which opened to the shoppers so they are able to purchase hot drinks. 
We went around 11am so I opted for a Veggie Brunch Plate which was made up on free range egg, veggie sausages, baked beans, mushrooms and avocado with toasted artisan sourdough. It was delicious, but I do think the addition of a few slices of halloumi would also be welcome into this mixture. Darren went for the meatier option of Full Brunch Plate which added in smokey bacon, pork sausages, and chunky potato wedges. We were feeling spendy so we also both went for a smoothie and these were equally delicious and packed full of flavours. There's lots of healthy options on the menu including a health nut bowl, organic porridge aswell as some treats like blueberry stacked pancakes and deluxe toasties. We only looked at the Breakfast menu so I can't wait to go back and see what dishes are on offer for later in the day/eve.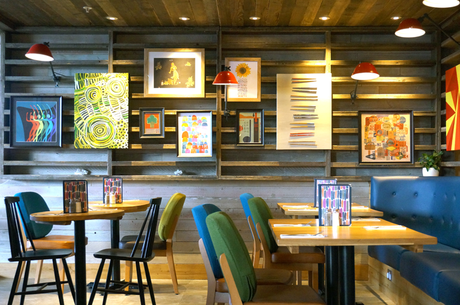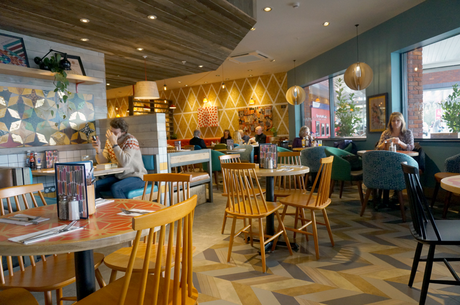 The decoration inside is really nice with lots of interesting pieces around, brightly decorated tables and a welcoming front of house staff. It was pretty quiet when we went around 11am on a weekday so there was no worry of not getting a table. I'm not sure how many people know of this hidden treasure yet!  
Overall, it was really enjoyable and I am looking forward to going back and trying some more dishes from the menu. I can definitely see myself draw to the take away coffee hatch during my next weekly shop. Check out their 
website
 for more information on locations, menu and current promotions.