STYLE
❤ ❤ ❤ ❤ ❤ ❤ ❤ ❤ ❤ ❤ ❤ ❤ ❤ ❤ ❤ ❤ ❤ ❤ ❤ ❤ ❤ ❤ ❤ ❤ ❤ ❤ ❤ ❤ ❤ ❤ ❤ ❤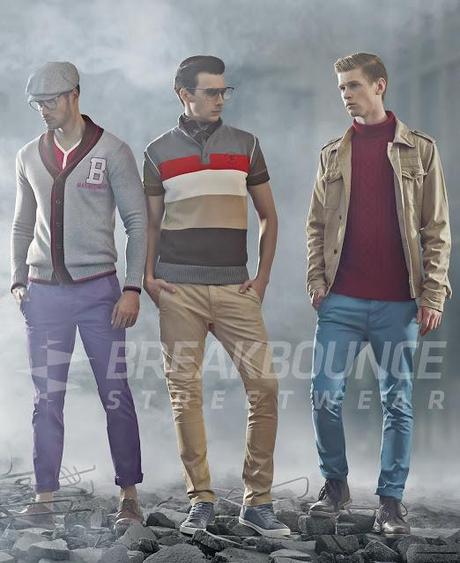 Breakbounce Streetwear Unveils Their Autumn Winter '13 Collection
The collection's retro, vintage and military-inspired gear helps you make an "I-own-the-streets" statement. Breakbounce, the definitive streetwear brand, makes the streets your runway this fall with the launch of their AW '13 collection. The range embodies the Dutch craftsmanship and contemporary European street fashion nuances to create a look that calls upon the youth to take fashion – the outward expression of one's identity - to the streets.
The prevailing mood for men's fashion across international runways is inspired by retro, vintage and military-inspired gear. In line with this trend, our team drew inspiration from the vintage military gear, heritage work wear and industrial cuts to create new classics for the future. More so than ever, the collection celebrates everything vintage, using our latest innovative technology and applying our artisanal know-how to deliver value to consumers. Mixing bold textures and mixed patterns with deconstructed cuts for a stripped-back look has resulted in our own unique twist on new age street style.
Catering to the contemporary metropolitan sensibilities of the youth, the AW '13 collection combines
military and utility influences
with a strong focus on pattern and surface. The outfits seamlessly mix hi-tech synthetics with weathered natural materials, for a hyper-modern aesthetic that is equally disruptive and accessible. This collection ushers the next level of international streetwear as tonal dressing, army issues and
color blocking
bring alive Hyper Hactivate-ism, this season's inspiration story. Hyper Hactivate is all about elevating traditional ideas of deconstruction, customization and repair. It deploys unexpected styling and layering to create a sense of eccentricity, while inventive cutting and color blocking give technical elements a considered look.
The AW '13 collection consists of trousers, tees, shirts and winter-wear. Each of these categories have an extensive range within themselves.
•  
Trousers
– Chinos, Cargos, Utility pants, Cut & Sew trousers, Second Skin Slim fit trousers and joggers.
•  
Tees
– graphic printed tees, long sleeved panelled tees, textured tees
•  
Shirts
– Vintage style long shirts, overshirts
•  
Jackets
– Field  jackets, bomber jackets, casual jackets, Soft Structured blazer
•  
Sweaters
– Cable knits, chunky hand knit patterns
•  
Sweats
- Sweatshirts, sweat jackets, hoodies
This season's collection continues to deliver on Breakbounce's legacy of making garments that personify the brand's philosophy of "
form and function meet fashion
." The season features an exclusive range of trousers in internationally trending fits such as drop-crotch, horse shoe and
Judhpuri-inspired
fits. Use of state-of-the-art techniques such as cut and sew, render these trousers a unique look and fit that feels right and allows for mobility. The collection also features a range of washed light and heavy weight denim shirts and Breakbounce's trademark streetwear version of the '
Shacket
,' a hybird shirt/jacket that can easily be worn over, or under, just about anything.
The Autumn collection is already available on
www.myntra.com
and other leading retailers. Breakbounce Winter collection would be
available from 1st November
onwards -     - Online @
www.myntra.com
,    - leading retail chains like
Lifestyle
Stores,
Ritu Wears
,
Centro
, 6 Hyderabad,
Fashion India
, and
LuLu.
Check out more Breakbounce Posts -
   ❤
Breakbounce Spring/Summer 2013 Collection
 ❤
Breakbounce Spring/Summer 2013 Collection Review
Website:
http://breakbounce.com/
Facebook:
https://www.facebook.com/breakbounce
Shop Online @
http://www.myntra.com/breakbounce