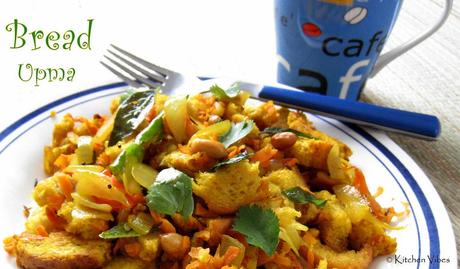 People who read me regularly might notice that I post more of Breakfast and lunch items than anything else. It has nothing to do with my special love for them or anything. I have been planning (nothing more!) to bake some stuff and make some snacks and indulge in some home made pickle for a long time now. But time just flies.

Weekend mornings start with a nice Breakfast followed by an elaborate lunch. After licking our plates clean and letting out that satisfied burp, there is nothing more we want to do! So that explains why I come back here and talk about weekend breakfasts and lunches all the time:)
Bread Upma is one such weekend favourite which can be prepared quickly with ingredients on hand. Some left over bread slices and a few veggies tossed in some spices and there you go with a filling breakfast.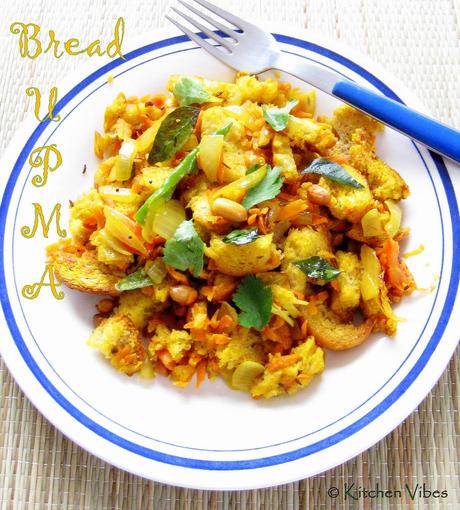 Ingredients:
6 large slices of bread cut into pieces (along with the crust)
1 onion chopped finely
1 tomato chopped finely
1 carrot grated
2 green chillies slit lengthwise
1 inch piece of ginger grated
1/4 tsp Turmeric powder
1/2 tsp garam masala powder (adjust according to taste)
Salt to taste
Seasoning:
1/2 tbsp Oil/butter
1/4 tsp mustard seeds
1/4 tsp Jeera/cumin seeds
1/2 tsp urad dal
a handful of groundnuts
few curry leaves
Recipe:
Heat Oil in a pan, add the mustard seeds and cumin seeds. When mustard begins to splutter add the groundnuts and urad dal and fry till the urad dal becomes slightly brown (about 2 mins).
Now add the curry leaves, onion, green chillies and ginger. Saute till onion turns golden brown. Add the chopped tomatoes and continue sauteeing till they turn pulpy. Add the grated carrot, turmeric powder and garam masala powder. Mix well, cover the lid of the pan and let it cook for a while. (about 2 mins)
Now add the bread crumbs and salt, mix well so that all the bread pieces are covered with the spices. Continue stirring till the bread crumbs are toasted and become crispy. (about 5 mins).
Serve immediately along with some ketchup (optional).
Serves: 2
Time Required: 20 mins
Don't miss a post. Subscribe to Life n Spice by email!