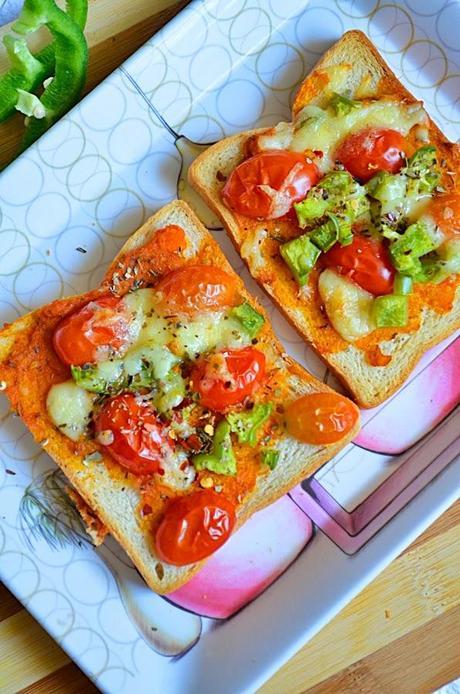 Bread pizza recipe-This is sure winner,It is very easy to get your pizza craving fixed instantly right there.If you are like me who crave pizza right at any time,here I have got the best cure for you.Bread pizza-how does that sound,well however you feel,you gotta try this :). If you think this idea to be weird please try once and you are not going to regret,if you think this to be a great ides,still try this because you are absolutely right :). All you need for this simple recipe is a couple of bread slices,sauce,cheese and fresh veggies of your choice for topping.This is a complete mix and match recipe,don't have pizza sauce handy,do not fret,just use any spicy sauce/bread spread,get creative its your won pizza after all.Here I have used home made pizza sauce,whole wheat bread and dried oregano but as I said before feel free to use any kind of bread,sauce and herbs.As far as topping the ideas are end less.I picked up fresh cherry tomatoes during last trip to buy veggies,so I have used it here as topping.You can very well use normal tomatoes,bell pepper,od pnion,even marinated paneer to get different flavored pizzas.Now lets see how to quickly put together a bread pizza,just awesome it was :)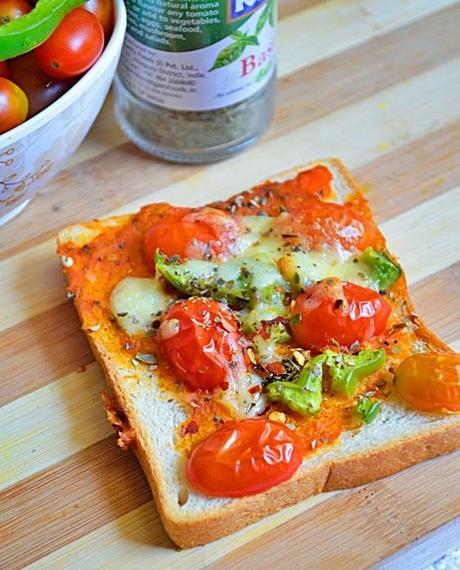 If you are looking for simple and tasty recipes with bread do check
Bread dosai-one of the top 10 post here :)
Multi grain bread bruschetta
Chaat style bread upma
Chilli cheese toast
and If you are yearning for a real flour base pizza here it is
Home made pizza from scratch
Grilled thin crust pizza with wheat base.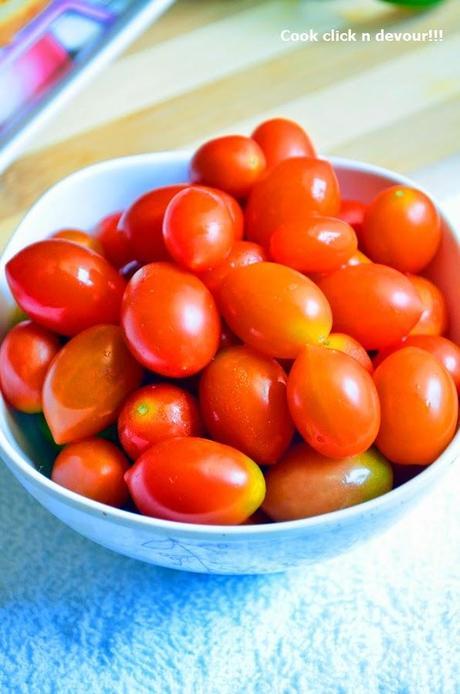 Bread pizza recipe
Star ingredients: Bread
Time:10 minutes+20 minutes
Yield:6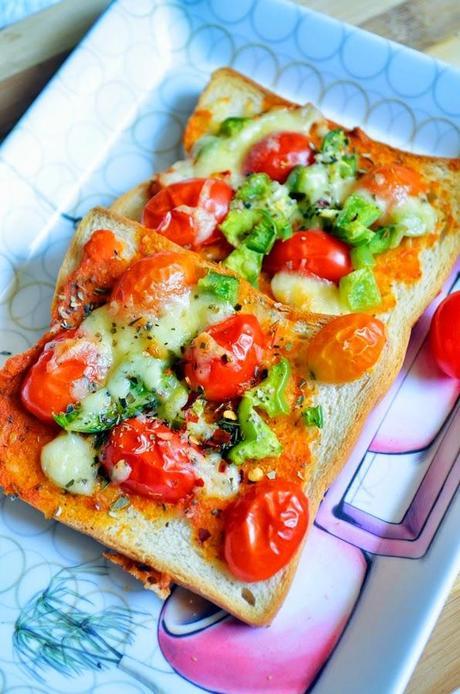 Ingredients:
6 bread slices,any variety
6 tablespoons pizza sauce
6 tablespoons grated mozzarella cheese (adjust quantity)
Dried oregano
For topping
12 -15 cherry tomatoes, halved
1/4 cup green bell pepper,chopped
1/4 cup onion sliced
Chilli flakes
Method:
1.Preheat oven to 200C.Grease a baking tray slightly.
2.Arrange the bread slices on the baking tray.
3.Apply the pizza sauce on each bread slice,1 tablespoon on each slice.
4.Now arrange the desired topping and spread the cheese.Sprinkle oregano and chilli flakes.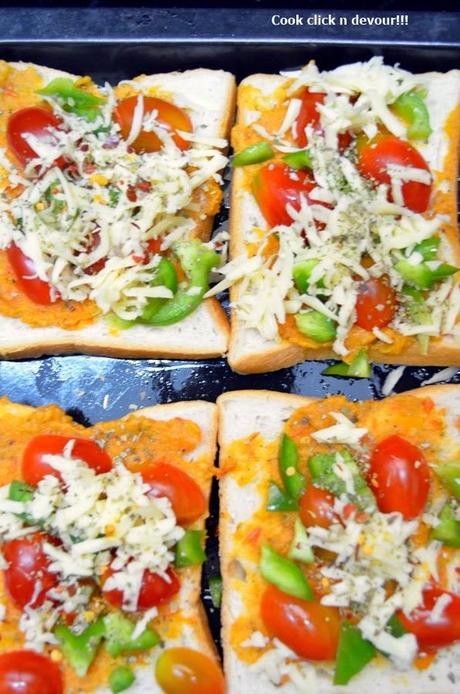 5.Bake for 1-20 minutes until the cheese melts and edges are slightly browned
6.Serve hot with more herbs if desired.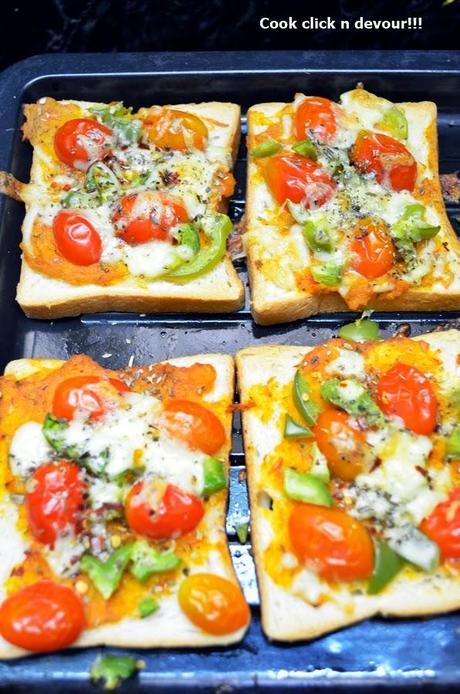 Notes:
1.If you want you slightly roast one side of each bread slice and arrange topping on that.
2.I tried this same pizza just with cheese and capsicum,no sauce and it was awesome too.
3,If needed you can apply little butter on each slice before applying sauce.