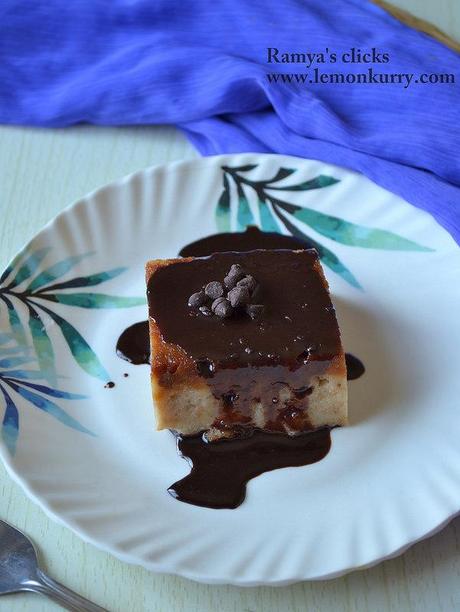 bread caramel pudding - an easy pudding recipe made with left over bread and this is a steamed pudding too.
bread caramel pudding i prepared this last week and this is very easy to make and also in minutes.
I used brown wheat bread for the recipe,you can also use ordinary white bread for it.Use brown sugar for caramelizing too and it makes the pudding little more rich and dark.make your caramel carefully and carefully swirl it in the tin in which you are going to make the pudding.And make sure you swirl it evenly so that it will come out easily when you demould it.lets move on making the recipe,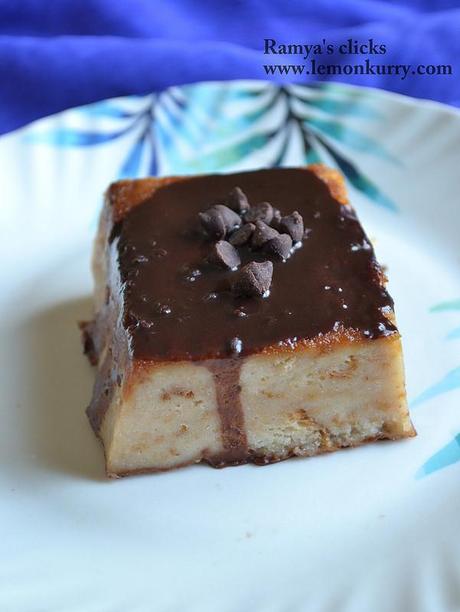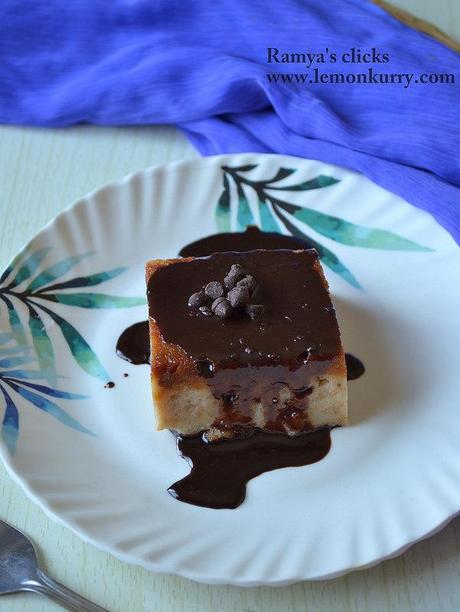 Ingredients
bread slices or leftover bread
Milk - 1/4 cup
sugar - 1 tablespoon and 2 teaspoons for caramel
chocolate sauce - for drizzling
vanilla essence - 1 teaspoon
Instructions
take a mixing bowl and add milk along with sugar and bread slices.mash it with fork and make a thick paste like mixture from it.

Now to that add vanilla essence and give quick mix.
Now in a sauce pan,add the sugar with 1 teaspoon of water.Once it starts melting,lower the flame and wait until it comes to brown color.
Take an aluminum tin and pour the caramel immediately and tilt it for even spread over all sides.be careful while tilting and preparing caramel.
Now pour the bread mixture which we prepared before and even it.
now in a steamer place the tin and cover it with aluminum foil.pierce the foil here and there.
Close it with a lid and steam cook for approximately 20 minutes.
After 20 minutes,take the pan out of the steamer and wait to cool a bit.Then refrigerate it for 2 hours before serving.
Serve with chocolate sauce or caramel sauce.