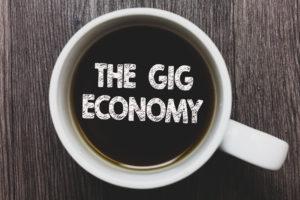 The gig economy has been gaining ground over the past several years, and with Brazil's sluggish economy struggling to make a comeback, many workers have turned their "side job" into their primary source of income. Today, apps like Uber, 99, iFood and Rappi provide steady work for nearly four million people.
To grasp just how popular these apps have become in Brazil, consider that the number of people who use them is 35 times that of the Correios (Brazil's postal service), which is the country's largest employer with 109,000 employees. To put this popularity in the international context, Forbes magazine reported that gig work platforms have grown by over 30 percent in emerging economies and that 40 percent of global businesses are anticipating using more gig workers in the future.
In the case of Yasmin Namen, a law school graduate, apps like DogHero and PetAnjo provide enough income for her to support herself. After law school, she worked as a salesperson in a shopping center but was laid off. The apps provide her an average of R$2,500/month (about USD$635/month), which is enough for her to cover her monthly bills.
She explains that the gig economy is not without its downside. "The bad part about working for yourself is that it requires a lot of organization or you start paying your bills late and your life becomes chaotic. But it is a job that began as a necessity for me to support myself, but ended up turning into an opportunity to do something I enjoy. There are always new requests, I am never without clients."
The Instituto Locomotiva (Locomotive Institute) reports that approximately 17 million people regularly use an application for income. The institute's president, Renato Meirelles, commented that transport, sales and marketing are among the main activities of those who use platforms for income and that this market has great potential for growth. "It is estimated that 70 percent of adults who live in metropolitan areas have made at least one purchase using an app."
In a country like Brazil, where job qualifications and professional certifications are heavily regimented and competition for jobs is controlled through exams where the top scorers earn the vacancy, the gig economy defies these standards. Since the rise of the gig economy, the courts are full of cases contesting the professional validity of popular platforms and applications.
One thing seems certain, though: with so many Brazilians finding financial security through gig platforms, the gig economy will continue to rise with no limit in sight.