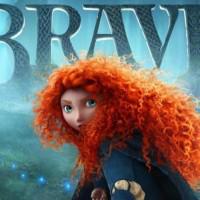 Movie: Brave
Director: Mark Andrews
Rating: ***1/2
There's a princess Merida in most of us. She's little, rebel kind of girl who's determined to lay her own path. She's is liberated, high-spirited and most importantly ready to set herself free. However, freedom comes with a price, and sometimes it's at the cost of bringing upon chaos in your own life or family.
'Brave' revolves around the brave princess Merida, who likes to draw her own path and doesn't appreciate others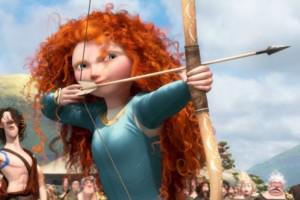 poking their noses in her life. She's the daughter of the Bear King – Fergus, known to be the slayer of Bear with his bare hands and his wife Elinor. Merida's officious attitude always worries her mother. To keep her in order Elinor decides to get Merida married off to one of the suitors who will win in the game of her choice. However, Merida manages to singlehandedly win over her suitors and in the processes sabotages the ceremony. Irked at Merida, Queen locks her up only to push her to the extreme of running off in to the forest, where she meets a witch who gives her a spell that could apparently change her mother forever (figuratively). But, little did princess Merida knew that she was going to turn her mother into a bear who at the second sunrise will stay one forever if the spell is not broken. Will Merida succeed in getting her mom back or not forms the rest of the story?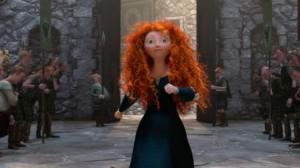 'Brave' is definitely not one among those awesomely executed animation pictures. It's a well made film with a story that connects emotionally with its audience. Animation films always come with a good, lesson-for-life kind of stories that inspires us all. 'Brave' brings to light the importance of a relationship, a tradition and most importantly how should a mother – a god like figure be treated. I suppose as and when parents back home tell their children life's important lessons, they should show them some nice movies too. For example; if your son or daughter keeps bullying their friends at school then show them 'Ant Bully' and I'm sure they'd learn a lesson or two. Or show them 'Ratatouille' to help them understand the importance of pursing one's passion. Yes, animation films are great lesson teachers to the present generation.
Set in Scotland, its fun to hear everybody talk in Irish accent. Especially, Kelly MacDonald who voiced Merida was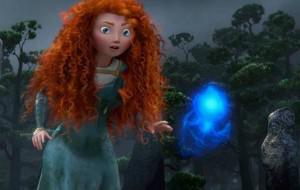 impeccable in her accent and certainly gave a nice feel to the film. Reese Witherspoon was originally casted for the voice of Merida but she backed out citing dates problem. Nevertheless, Kelly did full justice to the role.
Brave's music was composed by Patrick Doyle and he added some native flavor to the music by adding bagpipes and other Scottish instruments. And the two songs featuring Julie Fowlis and Birdy pour life in to the film.  
In essence; 'Brave' is a film with a sincere message and innocent humour that deserves to be embraced.