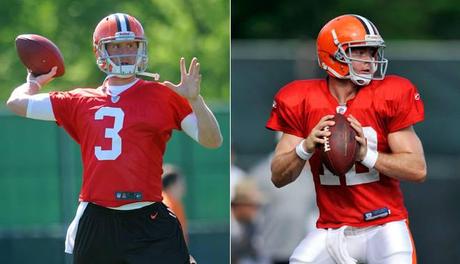 Photo: US Presswire

- Adam Parker


The battle royale for the Cleveland Browns' starting quarterback position got underway Tuesday, as the team took the field for the first round of voluntary organized team activities.
This has been and will continue to be one of the hottest and most closely contested (and scrutinized) quarterback competitions in recent memory.
The battle between the incumbent Colt McCoy, and the Browns' shiny new toy -- the 22nd overall pick in the 2012 NFL Draft, and 28-year-old former minor league baseball pitcher Brandon Weeden.
The Browns have assured everyone that it will be an open competition between the two players, but it would be naive and stupid of us to believe that Weeden doesn't have the inside track to win this two-horse race (believe it or not, Seneca Wallace will not be a factor).
The quarterback position is up for grabs in Cleveland. The Browns fully expect Weeden to win it.
Speaking before a banquet for Browns fans on Monday, general manager Tom Heckert made the team's intentions blatantly clear, citing that the team drafted Weeden out of Oklahoma State in the first round with the idea that he would start in his first season.
"You can write about it and talk about it however you want," Heckert said. "The best guy is going to play and we fully expect Brandon to be that guy. That's our goal is to have him be the guy. I think when we say, open competition, the best guy's going to play, that's just the way it is. But we drafted Brandon Weeden to be that guy."


"(You) draft a guy 22nd in the draft, you think he's going to be that guy."
Is it just me, or does it sound like this so-called 'competition' is little more than a formality?
Sure, McCoy will undoubtedly get his reps with the starters. But honestly, you can't expect me (or anyone else for that matter) to believe that you drafted a 28-year-old quarterback who has that prototypical size and arm strength that all the scouts drool over just to have him standing on the sidelines holding a clipboard.
Sounds to me like McCoy's chances are dwindling by the day.
Colt is a nice player, no doubt; but I have a hard time believing that he is the Browns' prized steed moving forward.
McCoy has gone 6-15 in two seasons as Cleveland's starter. He made 13 starts last season before missing the final three games with a concussion after having his world rocked by Steelers linebacker and Roger Goodell's resident poster child for all-around NFL 'badness'.
Cleveland took stabs at trying to acquire one of the top two picks in order to land either Robert Griffin III or Andrew Luck, but after failing miserably, saddled the future (and present) of the franchise onto the shoulders of Weeden.
Like it or not, this job is Weeden's to lose, and honestly, with the way the Browns seem to be doting on him like some precious new puppy, I sincerely doubt he'll be handing it over anytime soon.