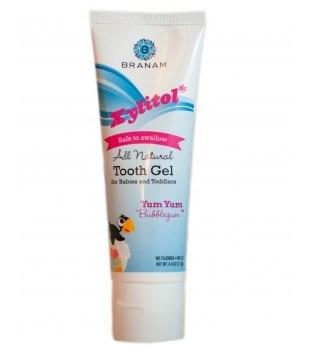 Photo provided by Branam
If you are like us, you try to avoid fluoride in your toothpaste, and that isn't always easy. One of the best products I have found is Branam Xylitol Toothpaste. We love the Yum Yum Bubblegum flavor. The boys actually fight over who gets to use it first. Since Lorenzo is still swallowing some of his toothpaste we opt to use the Branam Xylitol Tooth Gel for him. but both are flouride free and contain no SLS, and both are actually safe to swallow.
But Branam doesn't stop with just toothpaste, they also offer xylitol based gums. They come in four different flavors. My favorite is the Hot Cha Cha Cinnamon, while the boys seem to like the Bingo Berry the best. There is also Peppermint Kiss and Snappy Apple. And Branam also offers Ortodontic Pacifiers. I think this is super important since so many children are using pacifiers into their toddler years.
Why xylitol?
Xylitol is an all natural ingredient that is clinically proven to help reduce bacteria and fight tooth decay. Approved by the FDA in 1963 as a natural alternative to sugar, xylitol is a white crystalline powder that is odorless with a pleasant sweet taste. Found in natural sources such as corn, birch trees, fruits and vegetables, xylitol is also naturally produced in the body by metabolic activity.
You can find Branams online, through some pharmacies and certain grocery distributors. We usually get our through a Frontier Co-op. "Branam™ partners with Healthy Child Healthy World (www.healthychild.org) helping to bring global awareness of early childhood tooth decay.  Branam™ commits a percentage of revenue to Healthy Child Healthy World to further this important initiative."
I love Branam and I feel really privileged to be able to bring them to you. I hope you get a chance to try some of their amazing products.

Photo provided by Branam
I was provided with samples to facilitate my review. All opinions are my own.