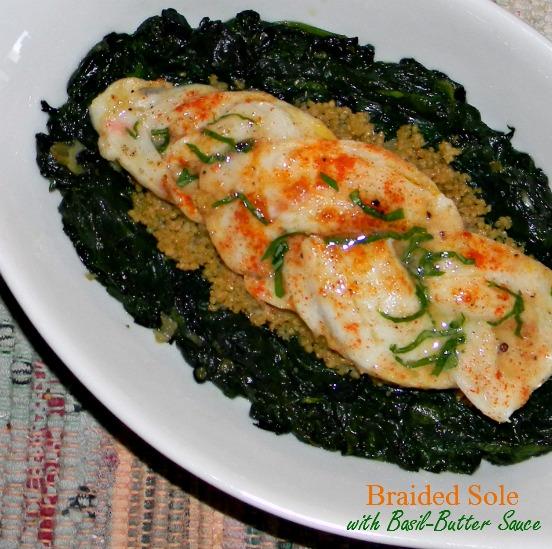 Flounder was on sale this week, so it was a good time to put this dish on the menu. I picked out the three longest fillets I could find because I need to braid them. Each fillet was cut into three equal lengths and braided as your would a pony tail. It made the dish look good enough for company.
A bed of sauteed greens (Swiss chard, spinach, beet greens or mustard greens) goes down the middle of the plate under a spoonful of WW couscous and then the fish on top of that. The sauce is spooned over the fish and it dribbles down. Simple but very flavorful.
I found a live potted basil plant in my Shop-Rite for the same price as the cut bunch (which was totaly wilted, yuck) last trip and until I can grow my usual large pots, this is perfect for now. Sometimes a cook just has to have fresh basil in the winter.
You may want to make a few extra servings, I could tell The Nudge wasn't satisfied with one piece of fish, I should have served him two. Next time. Learn from my mistake.
Those who do not want to ingest carbs, double the spinach and omit the couscous.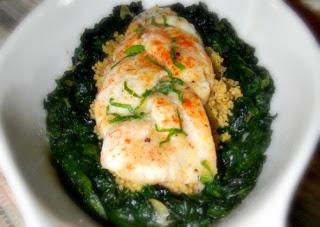 Braided Sole with Basil-Butter Sauce
makes 2 servings
* 2 sole fillets (1/4 pound each)
* 1/4 cup dry white wine
* 2 tablespoons minced shallots
* 1 garlic clove, crushed
* 1" strip lemon zest
* 2 tablespoons whipped butter
* 2 tablespoons water
* 1 tablespoon lemon juice
* 1 cup cooked spinach (hot)
* 2 tablespoons thinly sliced basil leaves
1. Cut each fillet lengthwise into three equal strips, starting about 1" from the larger end. Starting from the center strip, lap the strips one over the other to braid the fillet, folding the end under or securing with a toothpick while baking (just remember to remove. I use colored ones so I can see them).
2. In a small saucepan combine wine, shallots, garlic and lemon peel and cook over high heat until liquid is reduced to 2 tablespoons (about half).
3. Pour through a strainer, discarding solids. Return liquid to pot and whisk in butter. Remove and keep warm.
4. Preheat broiler. Spray baking pan with non-stick cooking spray and drizzle with the water and lemon.Season with a pinch of salt and paprika.
5. Broil until fish flakes easily about 3-4 minutes.
6. Arrange spinach in a gratin pan and place fish on top. Add basil to butter sauce and spoon over fish.
Serve.