Having released Turn Away off of their limited edition 7" Get Sick, a few weeks ago; the super fun guys from Bouts promised a super fun video, and they've delivered. Here's what happens when you add friends (who first heard the song at the shoot,  singing from words scrawled on sheets of paper) + whiskey + a tiny karaoke booth in Japanese bar Ukiyo. Complete with subtitles.

You can play Where's Wally, and find me in this video :P Also, spot the missing runner/sneaker/trainer...footwear!
Bouts supported none other than The Presidents Of The USA this Saint Patrick's Day and are rocking a nationwide tour, right now. If you run you can catch them tonight at one of my favorite spots, The Workman's Club, Dublin. DO IT. I promise you'll have fun.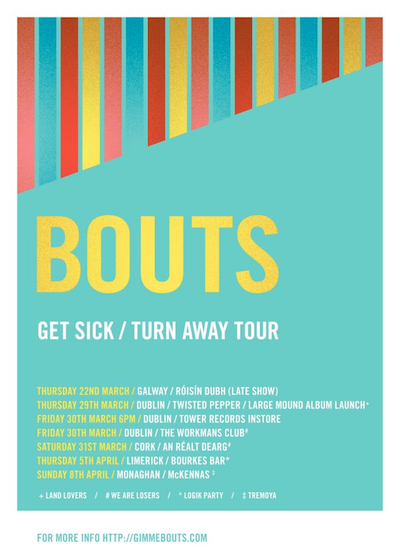 Follow them here https://twitter.com/#!/gimmebouts
like them here
https://www.facebook.com/pages/Bouts/275118665844806
and listen to/contribute to their band kitty here
http://gimmebouts.com/