So on Monday, I thought of treating myself to a few new items of clothing, as it's been such a long time since I did last! I presume by my older posts you may already know which shop I went to, to buy these and of course, it's Primark, a shop where you can buy loads of items, for a decent price!  It's not been the much wanted spring/summer weather recently, so I thought of buying clothes that suited the weather, which for now is warm and mainly dark coloured clothing.
~ My buys ~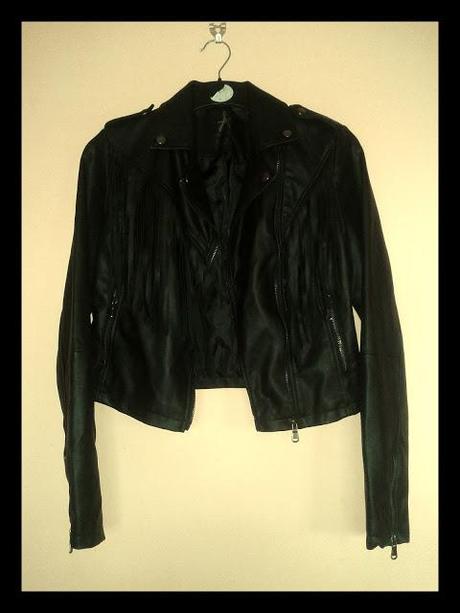 Fringe Jacket
|
was £25, bought for £10.
This fringe jacket has to be my best buy of the day! I don't usually go for things like this; I go for the more plain type of jackets, however this time I wasn't going to let this slip by, as when I saw it I liked the look of it almost instantly. I've began to notice myself wearing most outfits with jackets that don't match- at all (as a fashion student that has  to be bad- right?) and as I've been wearing darkish colours recently, I decided a new black jacket with a qwerky side to it would do me just fine! I absolutely love the jacket and not to mention the price, it had been knocked down from £25 to a very affordable price of only £10! Surprisingly the jacket is not too heavy, which is great as I can wear it without getting annoyed. It also is easy to move around in and doesn't get too hot which some jackets made out of the same material does. I am very pleased with this buy and I will be wearing this most of the time. My jacket collection is growing- yaaay!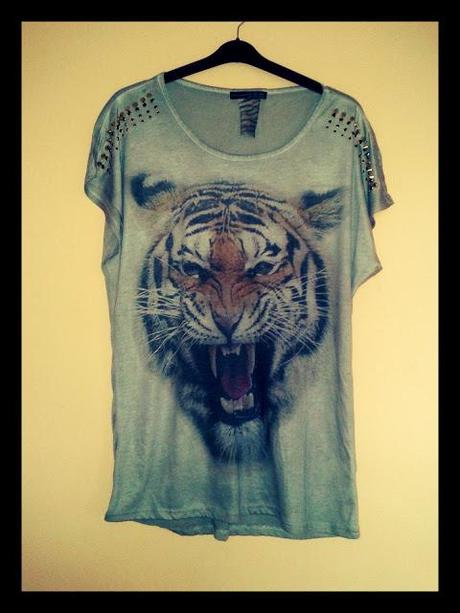 Eyelet stud t-shirt
|
£7
So, I was looking around for some new tops to go with what I wear most- black leggings/jeans and firstly I came across this t-shirt. I am a big lover for studs and as this had them on, I knew it would be a definite buy, also I loved the print on it and I adore tigers so the image didn't spoil the shirt as I think most prints do. The t-shirt isn't heavy at all and is made from really light material so it's kind of floaty which I like about tops, however in the wind it does stick to the figure, which is kind of annoying if you have a bit of a podge like me- waah! However I really do like everything about this t-shirt and I am glad I bought it.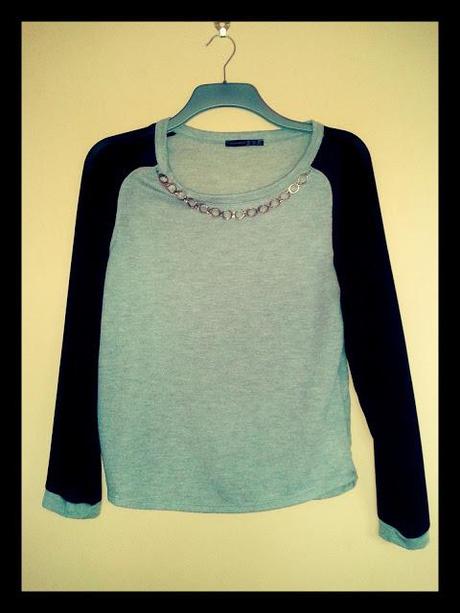 Chiffon mix t-shirt
|
£8
This top is amazing. To me, I find it different to most tops; it's got an everyday/occasion look to it (if you get what I mean) I would definitely wear it when I am just out somewhere random and I would certainly wear it to a party or a meal, because the two kinds of material make it a very diverse top. I love the chiffon sleeves, it is such a benefit to the top as most long sleeved tops make you really warm, but as the chiffon is light and floaty it makes it so much better to wear. The gold decoration on the top is also a favorite of mine because it doesn't just look like a decoration that has randomly been stuck on there; it looks like an accessory which is awesome, because if you wear it there is no need to worry about finding an accessory to go with it! I am really happy that I bought this; you will have to look out for it in future posts as I may wear it for an occasion we both go to, such as one of our freaking amazing parties!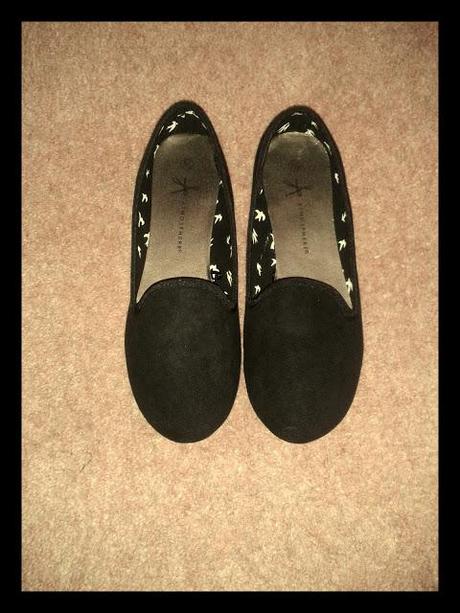 Shoes
|
£6

Everybody needs some flat, black pumps in their lives, especially for matching dark clothing, and as I have been wearing dark colours at the moment, even when the sun does creep out at times, it's always nice to put some flats on, without socks to free your feet (you with me?). So I bought these, which are plain and simple, however made from a really nice material that I have no idea what type it is, all I know is that the shoes are super soft and very, very comfortable!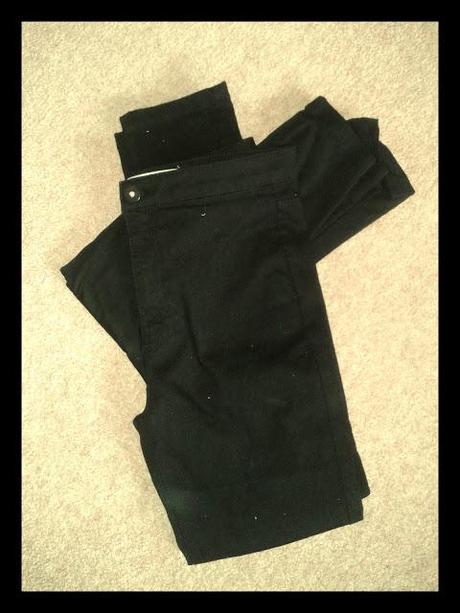 Super high waist jeans
|
£10
Leggings

|

£3
I am always buying leggings, however when I wear them I usually put two pairs on because you know...they are see-through at times! So, this time I thought of buying some black jeans, which are definitely thicker and much stronger, I also wanted some that were high waisted so that they'd stay up and not keep falling down. It took a while for me to find these, I get a little confused when they just pile all the jeans up in a great hump...anyway, I found this pair and bought them. When I got them home, I wasn't sure what they'd look like or how they'd feel on so I tried them on and I actually liked them. They are no fuss at all and are extra great as they cover up my stomach when I wear tops that flare out when the wind gets me- woo!
The famous leggings, yep although I just criticized these things for been see-through at times, I couldn't help but buy yet another pair! I just loved the material, it's so flimsy and soft and they are so comfortable to wear which makes them even more perfect to wear. They also go with everything- any color too! One problem I do get with leggings though, which many others will probably experience is they rip after so long (boo) however at the cheap price of £3 they are definitely worth buying again.