Again, this month I read fifteen books which in total so far this year is sixty-nine and I'm hoping to make it to seventy-five before the year is finished. I only chose a select few from my long list of books, most of them were all fantastic reads but there were a few very special ones in there that deserved more than a few sentences.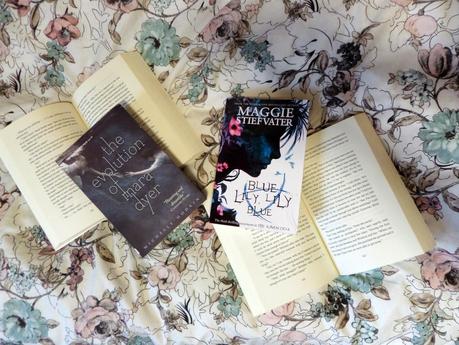 Addicted After All - Krista and Becca Ritchie


Absolutely incredible. Words cannot describe nor justify how utterly wonderful this final book was. My heart is so full of happiness from this book, I think it could burst. I laughed, I smiled and I cried, all of joy, this book and the rest have touched me deeply and it's a story of two brilliant people and a love I will never ever forget. Their happy ending was all that I could have wished for, this book, all these books, every single character within this story will stay with me forever. These books are so spectacular they deserve to be read by so many, without a shadow of a doubt I could read about their lives forever and never be bored, definitely my favorite read of the entire year. I commend and applaud you, Krista and Becca Ritchie, thank you for creating the Addicted series and these people inside it.

Blue Lily, Lily Blue - Maggie Stiefvater 

I had been excited for this book for months and months; when it finally came around to picking my book up I wanted to

give it all my attention. This series is so unique, so interesting and mind consuming that I have to have all concentration on the book and nothing else. The group of characters within this series are by far my favorite from any book I've read,

I love each and every one of them. I love the core fives individual personalities and the bond they all share together. I cannot wait for the next one to not only continue their story, but also to see how it ends.The Evulotion of Mara Dyer - Michelle Hodkin

Intense, beautiful, captivating. Page after page I was left utterly overwhelmed by this book, it may have taken me over a month to read but that doesn't mean this book wasn't spectacular, because it was. Even with the knowledge of how this second book was going to end I was still left speechless by the continuous twists that occurred. I am itching for the final book to arrive through my letter box any day now, to see where these characters end up and especially how things play out.




Archer's Voice - 
Mia Sheridan


Beautifully heartwarming. It's always the best thing to go into a book without any knowledge about it, and I was wonderfully surprised throughout this book. It tugged on my heart a lot, it made me cry, feel such a wide range of emotions, and I became emotionally invested in these two characters. This book was wonderfully wrote, with captivating stories and interesting characters that pulled my interest so much. It reminded me just how important kindness and friendliness are, as well as giving people chances. A truly beautiful book that I will always remember.