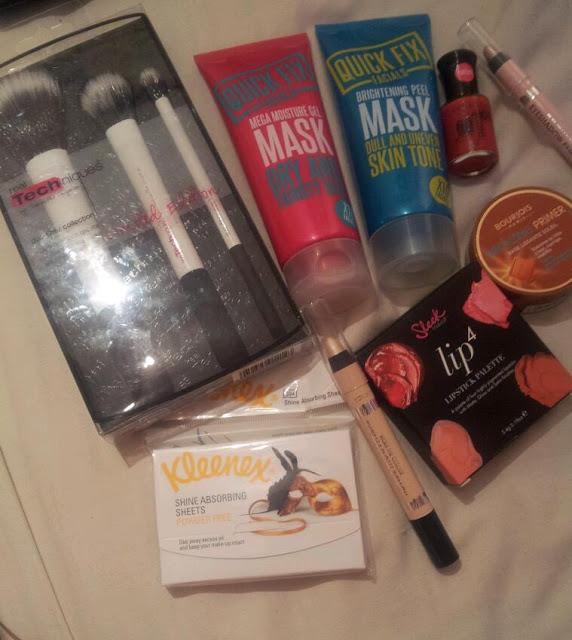 I really do need to curb the spending but I was feeling a bit down yesterday and what better way to pick yourself up than having a little shop.
I of course headed straight to Superdrug where I picked up the Sleek Lip Palette in Siren. I have been eyeing this up for sometime and finally decided to treat myself too it. I also picked up some Kleenex Blotting Tissues as this hot weather is making me even more shiney than normal.
I then trotted off to boots as I decided I needed the Real Techniques Limited Edition Brush Set after going back and fourth on whether I should get it or not.
Whilst in there I spotted that Collection had some eyeshadow pencils that looked inviting so I grabbed two of those in Vintage Blush & Vanilla Sky and got a free Hot Looks Nail polish in Big Hair for free.
Lastly I spotted that Boots have started stocking the Quick Fix Facials Masks. I had spotted these in a magazine a while ago and have been on the hunt for them. There is 5 in the range and they all cost £4.99. I really wanted them all but I could barely justify one so of course I picked up two. ;)
I got the Mega Moisture Gel Mask which is full of Hyaluronic Acid and the Brightening Peel Mask which I think might be a dupe for the Elemis Papaya Enzyme Peel. I can't wait to try them.
Let me know if you have tried any of these before?