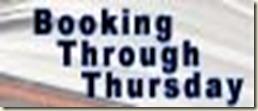 hosted by Booking Through Thursday   This week's question:  

What's the silliest (most foolish?) book you've ever read? Did you enjoy it?

  When I was growing up, I had a copy of The Stinky Cheese Man and Other Fairly Stupid Tales by John Scieska and Lane Smith.
It kills me how many people have never heard of this book because it was one of my favorites. There were a handful of stories that took fairy tales and made them ridiculous. From The Princess and the Pea to Chicken Little, there were tons of weird, goofy, and thoroughly entertaining stories based on tales most kids are familiar with. I mean, there was the story of The Princess and the Bowling Ball, which I don't think I need to explain in order for anyone to understand the kind of humor is present in the book.