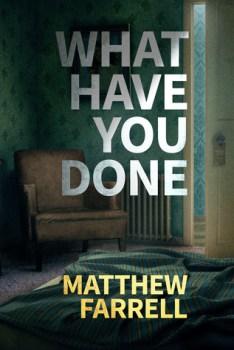 What Have You Done by Matthew Farrell
Published by Thomas & Mercer on October 1, 2018
Pages: 318
Goodreads
Buy on Amazon
 
The Booksparks Fall Reading Challenge 2018 (#FRC2018) is here.  Summer is coming to a close and BookSparks releasing their next reading challenge.  They pick 17 new Fall books, and they take readers on an adventure this season.  Today's book is the second book in their challenge – What Have You Done by Matt Farrell!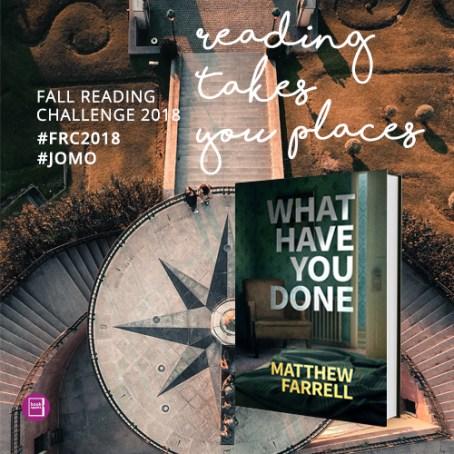 Family is not what it seems in this raw, edgy thriller that New York Times bestselling author Lisa Scottoline says "you won't be able to put down."
When a mutilated body is found hanging in a seedy motel in Philadelphia, forensics specialist Liam Dwyer assumes the crime scene will be business as usual. Instead, the victim turns out to be a woman he'd had an affair with before breaking it off to save his marriage. But there's a bigger problem: Liam has no memory of where he was or what he did on the night of the murder.
Panicked, Liam turns to his brother, Sean, a homicide detective. Sean has his back, but incriminating evidence keeps piling up. From fingerprints to DNA, everything points to Liam, who must race against time and his department to uncover the truth – even if that truth is his own guilt. Yet as he digs deeper, dark secrets come to light, and Liam begins to suspect the killer might actually be Sean …
When the smoke clears in this harrowing family drama, who will be left standing?
---
I have not received a copy of this book, nor have I read it.  When it becomes available to me, I will most definitely be reading it.  I am posting as part of the BookSparks Fall Reading Challenge 2018 (FRC#2018).

~ ~ ~ ~ ~ ~ ~ ~ ~ ~ ~ ~ ~ ~ ~ ~ ~ ~

It would be great if you would stay connected with me!! You can follow me on Twitter @DebiL1611, like me on Facebook at 2014 and Beyond, circle me on Google+, follow me on Tumblr, Instagram and Bloglovin', subscribe on YouTube, or connect with me on LinkedIn and Pinterest.

Please make sure to visit my homepage and subscribe to my blog for more great posts on running, fitness and lifestyle topics as well as food, product, music and book reviews, and more!