I received this book for free from the publisher in exchange for an honest review. This does not affect my opinion of the book nor the content of my review.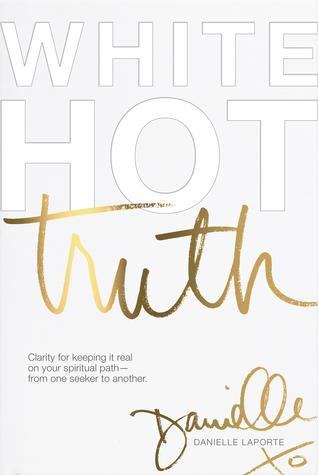 White Hot Truth: Clarity for Keeping It Real on Your Spiritual Path from One Seeker to Another by Danielle LaPorte
on January 1st 1970
Pages: 232
Amazon / Barnes & Noble
Goodreads

This post contains affiliate links.
One of my favorite parts from The Help by Kathryn Stockett is when Aibileen gets down on little Mae Mobley's eye-level and says "You is smart. You is kind. You is important." If every child could have that mantra instilled the world would truly be a different place.
In Danielle LaPorte's White Hot Truth, she metaphorically grabs my shoulders firmly, looks deep in my eyes and says with fierce conviction "You were born important. With full rights. Just for showing up. You are more than adequate; you are substantial. Worthy. Powerful. You are a blessing of original goodness." An arrow straight to the heart and my Mae Mobley moment!
The entire book is like a refreshing wake up call from both your best girlfriend and treasured spiritual mentor. Each chapter is filled with more goodness than the previous. I found myself highlighting every. single. page.
Of all Danielle LaPorte's books, this one is my favorite. And I don't know if its so much the message or where I'm at in life, but it's like she gets me. She understands that I've been stuck on that self-improvement wheel reading every new self-help book to be released. Self-compassion? Check. Emotional Health? Check, check. Assertiveness training? Yup, have several of those. The list goes on and on.
Discover how Danielle LaPorte perfects the Mae Mobley moment from The Help
Click To Tweet
When a book makes you feel – no matter what the emotion – that book is a treasure indeed. When a book makes you feel validated, worthy and most of all, not alone on the journey, then that book is priceless indeed. Sorry Danielle, I changed the name of your book to 'my Mae Mobley moment.'
Bonus
If you're a fan of Danielle LaPorte's then you know she constantly over-delivers. With the release of White Hot Truth, LaPorte has created a FREE book club to correspond with the book. You don't even have to buy the book (though I promise you'll love it). The official book club date is May 24th so be sure to register prior.