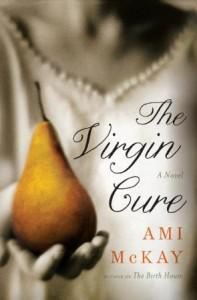 Desperation will take mankind beyond any sane course of action if allowed to go unchecked.  Take, for example, the horrific phenomena in the late 1800′s of 'curing' such diseases as syphilis and tuberculosis by bedding a virgin! How well do you think that cure worked?!?
The Virgin Cure is the tale of Moth 'Fenwick' a twelve year old destitute child, daughter of a fortune-telling gypsy and run-away father.  The story begins with Moth being sold by her mother to a woman as her serving maid.  When Moth is horribly abused by the woman, the kind butler takes pity and whisks her away back to the New York slum to her mother.  Moth finds her mother gone, the rent due to the loathsome slum-lord, and nowhere to turn for help.  When Moth is about to be used for the slum-lord's pleasures, she is 'saved' by a beautifully-dressed girl.  Who should her benevolent rescuer  be but a woman-child, fifteen year old 'almost whore.'  Moth is invited to Miss Everett's 'infant school,' home to young girls being prepared for their sacrifice. . .In exchange for a clean home, fresh food and beautiful clothes that actually fit, Moth is expected to entertain men of wealth. . .initially by being the model for the peep show and eventually expected to be the prized virgin up for the highest bidder.
A myriad of characters are interspersed throughout, from the circus owner to the other girls in Ms. Everett's home to the gangs of homeless children.   Dr. Sadie, one of the very few saints ~  was dedicated to helping the young prostitutes and potentials.  Her family did not believe in her benevolent spirit, especially helping ne'er-do-wells like child prostitutes!  But Dr. Sadie persevered and dedicated her practice to healing the broken bodies of the children in Ms. Everett's boarding house and the influx of immigrants along Chrystie Street and in the Bowery.
The story was told in a unique perspective – from Moth, but through Dr. Sadie's journal.  Small vignettes of information are included as if Dr. Sadie were jotting notes.  I found the story to be fascinating and different – few novels out there focus on the plight of children in the late 1800s, much less how "child abuse" came about as a societal concern. . .would you believe the focus on animal cruelty came about in 1866 while the focus on child cruelty did not come to light until 1874! (since my days of working in the child abuse field this lapse has always baffled me!) So I was a champion for this book even before reading it ~ with that said, the voice of Moth at times seemed much older than age twelve.  Granted, she was virtually homeless, sold by a mother who never showed her any affection, and thrust into a world no child should ever witness or be privy to.  Still, I thought she was wiser beyond her years.
The Virgin Cure is compelling, historically realistic with absorbing prose.  One additional minor aspect I did not like was the name "Moth."  There is a sweet story about the way her father chooses the name, but for the lack of love in the home and for the child it would have seemed more appropriate had the mother chosen such a buggy name. . .Just a little pet peeve I had . . .otherwise a quite engaging novel!
Follow the Blog Tour for The Virgin Cure. 

Many thanks to the publisher for the complimentary review copy.