I received this book for free from the publisher and NetGalley in exchange for an honest review. This does not affect my opinion of the book nor the content of my review.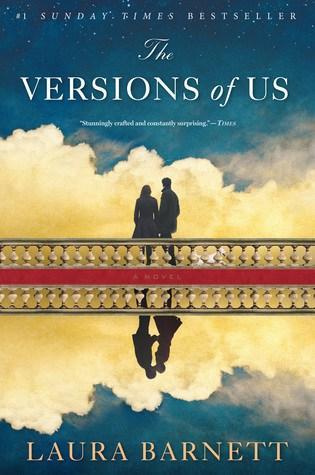 The Versions of Us
by Laura Barnett
Published by
Houghton Mifflin Harcourt on May 3rd 2016
Genres:
Fiction
Pages:
416
Amazon
Goodreads

Eva and Jim meet at Cambridge in 1958.  Eva is a writer while Jim is either pursuing art or law in the different versions. What begins as a beautiful love story from a chance meeting turns into version 2 and version 3. Each one slightly different, yet enough to change the trajectory of their story. It's the equivalent of three different 'what if's?' Which is a brilliant idea for a story as most of us play the what if game in our minds and in our journals.
The writing is lovely and immersive. The subtle nuances of each storyline is fleshed out.
Perhaps that's how love always arrives in this imperceptible slippage from acquaintance to intimacy. Eva pg 12
But.
I had difficulty following the different storylines as each chapter changes. I felt disjointed in reading The Versions of Us. It was almost hard work keeping up with which version was which. I wanted to love the book. I truly did. It was a smart story, incredible idea and beautiful writing. I just had a hard time keeping up.
A novel of 'what-if's' spanning 60 years and 3 'versions of us'
Side note ~ there are wonderful references to books and publishing houses throughout the book:
Pale brown hair, in need of a cut; a Penguin paperback in his free hand. Eva can just make out the title on the spine, Brave New World . . .

He shifts the paperback he is carrying–Mrs. Dalloway; he'd found it on his mother's bedside table as he was packing. . .
It was fun finding the references to literature and pop culture throughout the book – everything from Shakespeare to People magazine. Even David Bowie has a mention.
Have you read this one? Am I right that we all tend to play the 'what-if' game in our heads or am I the only one đŸ˜‰ ?
*With tremendous thanks I received The Versions of Us from the publisher for the purpose of an honest unbiased review.*

Subscribe for Updates