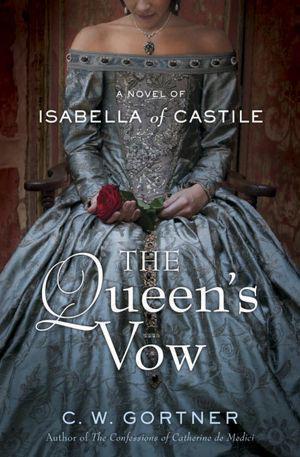 Author's Site: C.W. Gortner
Publisher: Ballantine Books | Published: June 12th, 2012
Genre: Historical Fiction | 400 pages
In the history books we learn how Queen Isabella and King Ferdinand finance Columbus' adventure in finding the New World.  What we are never told is how Isabella of Castile became Queen in a time when women were not deemed fit for rule.  The Queen's Vow begins with the death of King Juan II, Isabella's father, and the subsequent flight of Isabella, Alfonso and their mother.  Enrique, the King's first born of his first wife would now become King, and the lives of Alfonso and Isabella would be threatened as heirs to the thrown.
The intrigue and drama surrounding the court were laid out in perfect tempo.  Isabella and Alfonso enjoy a childhood far away from the King's Court and the conniving of the Queen until Isabella comes of age at thirteen.  You know the saying "Keep your friends close and your enemies even closer" King Enrique and half-brother to Isabella and Alfonso, decides to move his siblings to his court with the help of Archbishop Carillo.
Soon it becomes apparent that Alfonso is being groomed to take over the crumbling kingdom from King Enrique….especially when Carillo escapes the court with Alfonso.  War ensues with Alfonso deemed traitor to the King (and at 10 years of age!).  Isabella, left at the court to maneuver through the maze, must maintain her innocence of the potential coup in order to survive…and all this at age 13.
The research C.W. Gortner must have done to bring Isabella of Castille alive on the pages is phenomenal.  Her life story is told in Isabella's words, thoughts, feelings…and how magnificently told it is!  That Gortner can get into the head of a Queen from 1480+ and write from her perspective was a wonder to read.  In a time when women were married off as pawns in the game, Isabella was determined to marry Prince Ferdinand of Aragon…and she made the marriage happen of her own will, even while working towards saving her country.
Isabella was a child made to learn how to survive in a court of deception, then a woman able to overcome the standard of the day of being made to marry a King she had no desire for, and finally made a Queen who believed in educating her people, uniting her country, and bringing her subjects together under one religion.  Gortner reveals to us a Queen of fortitude and strong beliefs. The decisions she made, right and wrong, are given background to help us understand the woman, the Queen…..  A truly remarkable account!
About the Author:
C.W. Gortner is the author of The Last Queen, The Confessions of Catherine de Medici and The Tudor Secret.  He holds an MFA in Writing with an emphasis in Renaissance Studies from the New College of California.
In his extensive travels to research his books, he has danced a galliard in a Tudor great hall and experienced life in a Spanish castle. His novels have garnered international praise and been translated into thirteen languages to date. He is also a dedicated advocate for animal rights and environmental issues.
He's currently at work on his fourth novel for Ballantine Books, about the early years of Lucrezia Borgia, as well as the third novel in his Tudor series,The Elizabeth I Spymaster Chronicles (US) or Elizabeth's Spymaster (UK).
Half-Spanish by birth, C.W. lives in Northern California.
To read what others are saying about The Queen's Vow,
please visit Historical Fiction Virtual Book Tours
Many thanks to the publisher for the complimentary review copy.