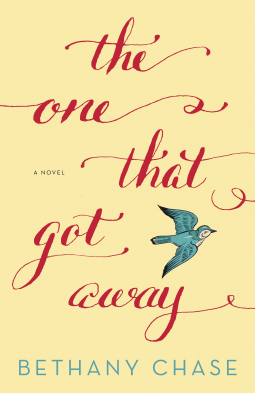 The One That Got Away by Bethany Chase
Published by Random House Publishing Group on March 31st 2015
Genres: Contemporary, Contemporary Women, Fiction, General, Humorous, Literary, Romance
Pages: 352


Perfect for fans of Emily Giffin and Jennifer Weiner, this bright, funny debut from a fresh voice in fiction offers a delicious take on love, family, and what it means to build a home of one's own.  Full of both humor and heartbreak, The One That Got Away is the story of one woman's discovery that, sometimes, life is what happens when you leave the blueprints behind. Advance praise for The One That Got Away  
Here is the "Cliff Notes" version of the book:
"Sarina Mahler thinks she has her life all nailed down: a growing architecture practice in Austin, Texas, and an any-day-now proposal from her loving boyfriend, Noah. She's well on her way to having the family she's hoped for since her mother's death ten years ago. But with Noah on a temporary assignment abroad and retired Olympic swimmer–and former flame–Eamon Roy back in town asking her to renovate his new fixer-upper, Sarina's life takes an unexpected turn. Eamon proves to be Sarina's dream client, someone who instinctively trusts every one of her choices–and Sarina is reminded of all the reasons she was first drawn to him back in the day. Suddenly her carefully planned future with Noah seems a little less than perfect. And when tragedy strikes, Sarina is left reeling. With her world completely upended, she is forced to question what she truly wants in life–and in love."
Okay, so here's my review:
The One That Got Away is total chick-lit, no question there. The author, Bethany Chase, is very witty and humorous in her writing, The book is very light and fun and I mostly liked Sarina's humor but at times I think she acts very self-centered. Maybe it's because she's young, or maybe it's because of her life circumstances. She definitely sees the world in a different light than the way I see life, that's for sure.
I loved the opening of the book: "That name you Google at two o'clock in the morning. That intoxicating connection that somehow never solidified into anything real; that particular memory you still visit every now and then, for that guaranteed hit of pure, sugar-packed dopamine. It's that story that starts with "There was this one time" and ends, reluctantly, with but I guess . . "
Sarina had a fling with a guy eight years earlier named Eamon Roy. Flash forward and now she's engaged to Noah, but unfortunately, she just can't forget Eamon. This book will cause readers to think about their "ones who got away". The plot thickens and Sarina has an opportunity to work with Eamon who is back in town. I won't give out spoilers but I'll say Sarina gets a star on her paper for not actually cheating on Noah. I always hate books that have someone cheating and then at the end it's a "happily ever after" with no consequences.
While the story is predictable and while Sirana's self delusion gets a little too thick for my liking, what made this book very readable and easy reading were the characters. Sirana, Eamon, Noah and their friends are great characters, and Sirana's relationship with her stepfather John is really special too.
The way the story wrapped up was realistically written and I really liked it. Overall, The One That Got Away is recommended for readers who love chick-lit. The author, Bethany Chase, has written a charming story of second chances with loss and love. The book is filled with romantic, sexy and sweet moments too. If you're looking for a beach read or a book for a lazy afternoon, this is definitely one you'll breeze through.
And stay tuned Bethany Chase fans, her next book will feature Sarina's brother in law, Colin and friend Hilary with a little more from Sarina and Eamon (oops, hope that didn't prove to be a spoiler).
Thank you so much NetGalley for providing me with a digital copy of this book in exchange for my honest review and unbiased opinion.
~ ~ ~ ~ ~ ~ ~ ~ ~ ~ ~ ~ ~ ~ ~ ~ ~ ~

It would be great if you would stay connected with me!! You can follow me on Twitter @DebiL1611, like me on Facebook at 2014 and Beyond, circle me on Google+, follow me on Tumblr, Instagram and Bloglovin', subscribe on YouTube, or connect with me on LinkedIn and Pinterest.

Please make sure to visit my homepage and subscribe to my blog for more great posts on running, fitness and lifestyle topics as well as food, product, music and book reviews, and more!