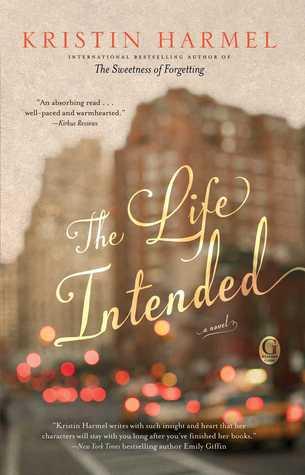 The Life Intended by Kristin Harmel
Published by Simon and Schuster on December 30th 2014
Genres: Adoption & Fostering, Contemporary Women, Family & Relationships, Family Life, Fiction
Pages: 368
Format: eBook
Goodreads

From the author of the international bestseller The Sweetness of Forgetting, named one of the Best Books of Summer 2012 by Marie Claire magazine, comes a captivating novel about the struggle to overcome the past when our memories refuse to be forgotten. In this richly told story where Sliding Doors meets P.S. I Love You, Kristin Harmel weaves a heart-wrenching tale that asks: what does it take to move forward in life without forgetting the past?
It's actually been a pretty long time since I read such a good book. This wasn't a self-help book, an educational book or even a true story, this was just a great piece of fiction and I enjoyed every minute of reading it. I had a day at home alone and instead of watching television or being on the computer, I actually chose to just sit and read and finished the book in nearly one sitting.
The main character, Kate Waithman is a young woman married to Patrick, who is the love of her life. they are like soul-mates. When Patrick is killed in a car accident, it takes everything Kate has to move on with her life. For ten years, Kate goes on never expecting to fall in love again, and then she moves on with a guy named Dan. On paper, Dan is perfect for her - so perfect, that she accepts his proposal and they become engaged. She can't figure out why she isn't more excited about the prospect of marriage to Dan - not the dress, the planning - something is missing but Kate moves on, blaming the confusion and stress on her lack of sleep.
Kate starts being awakened by dreams of her Patrick - or is she sleeping? She has stumbled upon a separate "world" where Patrick is alive and their lives together continued. Is she awake or is she dreaming? She can't be sure but they continue, and it becomes even more elaborate. She wonders if Patrick is trying to tell her something or relay a message to her but she is having a hard time moving forward "awake" with Dan or "asleep" with Patrick and the lives she shares with each of them.
In the "dream" life with Patrick, she finds that she has a "dream daughter" Hannah, who is hard of hearing (deaf). Kate's quest to determine Patrick's message and understand what role Hannah has in her life leads Kate to enroll in a sign language class. Kate becomes friends with the teacher, who she learns works with children in the foster system. He encourages her to use her new sign language skills together with her skills as a music therapist to help deaf children in the foster system. Here she finds greater rewards than she could have imagined both professionally and personally.
This book is very unique in that we read through two very different outcomes for Kate. We see two different "lives", and two different states of happiness. The journey of Kate between the "dream world" and the "real world" and her struggle towards true happiness makes this book so fulfilling.
This book was definitely written from the heart. The author shared such great passion that I kept thinking about this book for days after I had finished it. The characters felt so real and their emotions were so authentic. This book reminded me why I like to read and I look forward to reading all over again.
I received this eBook without cost in exchange for my honest and unbiased review from NetGalley.
Please make sure to visit my homepage and subscribe to my blog for more great posts on running, fitness and lifestyle topics as well as food, product, music and book reviews, and more!