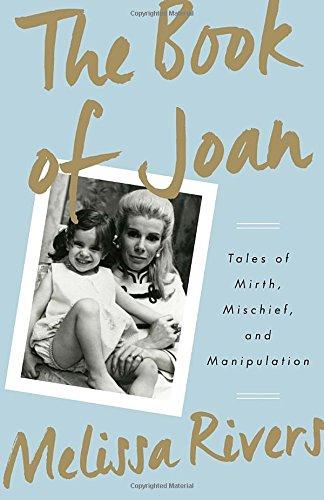 The Book of Joan: Tales of Mirth, Mischief, and Manipulation by Melissa Rivers
Published by Crown Publishing Group on May 5th 2015
Genres: Biography & Autobiography, Entertainment & Performing Arts, Rich & Famous
Pages: 304


Joan Rivers was known all over the world–from the Palace Theater to Buckingham Palace, from the bright lights of Las Vegas to the footlights of Broadway, from the days of talkies to hosting talk shows. But there was only one person who knew Joan intimately, one person who the authorities would call when she got a little out of hand.  Her daughter and best friend, Melissa.  Joan and Melissa Rivers had one of the most celebrated mother-daughter relationships of all time.  If you think Joan said some outrageous things to her audiences as a comedian, you won't believe what she said and did in private. Her love for her daughter knew no bounds–or boundaries, apparently.
I always enjoyed Joan Rivers and while I know most of the time she could be very inappropriate, I just can't help myself from laughing if I saw her on television or heard her on the radio. When she passed in September of 2014, it was definitely a sad day in the comedy world. I had seen that her daughter, Melissa, had written a book and I wasn't sure what it was about but I just knew I wanted to read it.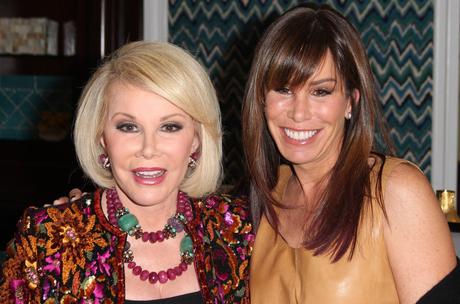 PASADENA, CA – JANUARY 07: TV personalities Joan Rivers (L) and Melissa Rivers speak during the E! Entertainment Television lunch panel during the NBCUniversal portion of the 2012 Winter TCA Tour at The Langham Huntington Hotel and Spa on January 7, 2012 in Pasadena, California. (Photo by Frederick M. Brown/Getty Images)
I really enjoyed reading this book. Melissa shares with us many different stories of her mother and growing up with Joan. You can tell the apple didn't fall far from the tree – Melissa can be pretty funny herself. I wouldn't say she's as funny as Joan but she isn't too shabby on her own! I didn't feel like she was trying to imitate her mother, but I'm sure that the sarcastic humor overflowed in her home as she grew up with her mom.
I feel like I like Joan even more than I did before I read this book because Melissa shares a bit about who Joan was as a mother, not just as a very hardworking and successful actress and comedienne. By Melissa's account, you can tell Joan was an awesome mom to Melissa and a fantastic grandmother to Cooper. Joan always seemed to have a great work ethic and insisted that Melissa have a great education. Because of her upbringing, Joan believed in the ever-fading old school etiquette.
I loved the many stories and fond memories that Melissa shares, and how she can spin even the most uncomfortable situation into something memorial and humerous.  I also knew before how close a mother/daughter relationship Joan and Melissa had even before I read this book, but the book makes it clear that Melissa shares her love of her mom and we finish the book knowing that Melissa truly treasured their mutually loving relationship.
Growing up with a famous celebrity mom was fun as it was busy, they were very close. Joan was in show business for fifty years, spending at least thirty years traveling (first class) and she loved flight attendants and 24 hour room service. Joan always worked hard to stay on top of her game, and rarely slowed down.
This is a collection of essays that look at Joan's childhood, what motivated her to succeed, her habits, foibles, fears, and pet peeves, and especially her interactions with Melissa and her grandson, Cooper. If you were a fan of Joan Rivers or of the Joan/Melissa "team", you will enjoy this book. While it's hard to imagine the fact that Melissa was still grieving while writing this book, I'm still grateful to Melissa for sharing her mother with us in this intimate and loving book.
~ ~ ~ ~ ~ ~ ~ ~ ~ ~ ~ ~ ~ ~ ~ ~ ~ ~

It would be great if you would stay connected with me!! You can follow me on Twitter @DebiL1611, like me on Facebook at 2014 and Beyond, circle me on Google+, follow me on Tumblr, Instagram and Bloglovin', subscribe on YouTube, or connect with me on LinkedIn and Pinterest.

Please make sure to visit my homepage and subscribe to my blog for more great posts on running, fitness and lifestyle topics as well as food, product, music and book reviews, and more!