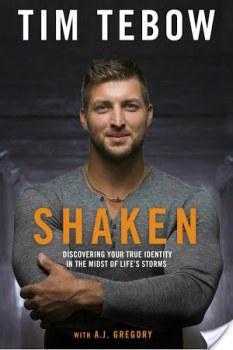 Shaken by Tim TebowA. J. Gregory
Published by Crown Publishing Group on October 25th 2016
Genres: Christian Life, Personal Growth, Religion, Spiritual Growth
Pages: 224
Format: Hardcover
Goodreads


Who are you when life is steady? Who are you when storms come?   Most of us have been on the receiving end of rejection, a broken dream, or heartbreak. And while this is not an easy space to go through, when we are grounded in the truth, we can endure the tough times.   In this powerful book, Heisman Trophy winner Tim Tebow passionately shares glimpses of his journey staying grounded in the face of disappointment, criticism, and intense media scrutiny. Following an exceptional college football career with the Florida Gators and a promising playoff run with the Denver Broncos, Tebow was traded to the New York Jets. He was released after one season.   In Shaken, Tebow talks about what he's learned along the way, building confidence in his identity in God, not the world. This moving book also features practical wisdom from Scripture and insights gained from others who have impacted Tebow in life-changing ways.   Though traveling hard roads is not easy, it's always worth it!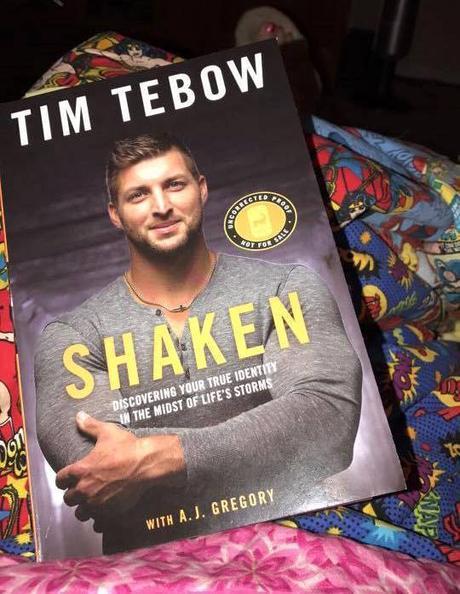 "Life isn't easy.  We all experience the ups and downs of relationships, career, and choices. Some of our best plans go awry. Lifelong dreams don't come true. People fail us, and we fail others too. Maybe worst of all is the heartbreak of rejection."
When I was first approached about a book by Tim Tebow, I won't lie – I'm from Ohio – I was slightly apprehensive just based on the whole "Gator" thing. I knew Tim was a Christian but I really didn't want to read a whole book about football, and no offense to anyone intended here, but I really didn't want to read anything especially Gator" – ish.
Now after I've read the book, though, I need to say that I'm so very grateful that God directed me to say "yes" instead of my gut instinct to say "no", because I have been fortunate enough to receive an advance copy of the book, Shaken, by Tim Tebow. It's now officially on the shelves and I will start out this post by telling you – get out there and pick yourself up a copy.  It'll be there exactly when you need it, just like mine was…. and I never say stuff like that in book reviews.
I know this is to be a book review, but just a quick personal story: I have been struggling with a situation at work for nearly 4 years.  It's definitely a personality thing, and I have often looked in the mirror trying to own my part, but realize that there's not going to be any change in the situation unless – well, you got it, unless there is change.  And that means on the parts of both parties.  That's where this book comes in.  Yes, the name of the book is Shaken, but read underneath: Discovering Your True Identity In The Midst Of Life's Storms.  Yes, I'm swallowing hard right now, how about you?
It seemed that as I turned each page of Shaken,it gave me encouragement and helped center me and stayed focused on the fact that while life can often lead us to feeling "shaken", we don't have to let it get us down completely or define us, because we are already defined as children of the One True King.  If we turn to Him, we can keep our priorities straight and rely on the One who is always there for us, no matter what comes our way.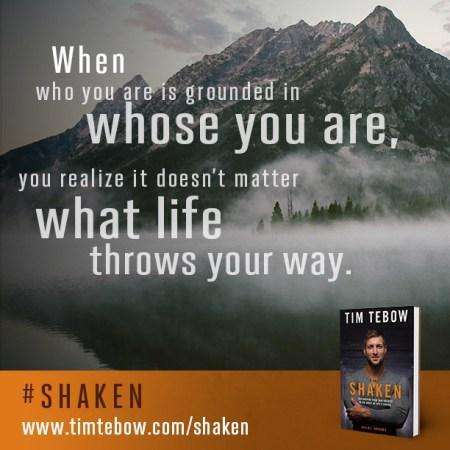 Football aside, I have always respected Tim Tebow as a man, both for who he is and what he stands for.  This book, Shaken has made those feelings even stronger. This man is not afraid to say who he is and take a stand, but he is also acting as God's servant and teaching, reminding and helping lead others to meet, know and serve Our Father.  In Shaken, Tim mentions Psalm 16:8, which says "I have set the Lord continually before me;  Because He is at my right hand, I will not be shaken."  It is such a proclamation to the fact that Tim lives that verse in his life. He has been able to stay grounded in his faith despite the many disappointments and criticism his professional life has endured, as well as the intense and sometimes mean-spirited scrutiny of the media.  
Probably my favorite sentence in the whole book right now is: 
"Choose faith. Choose to trust God more than what you feel."
Tim shares how his faith has been challenged and even stretched at times, and he also shows readers no matter how many times he gets knocked down, he continues to holds onto God's promises for him.  Tim reminds us that God always has a better plan for us and that we need to hold onto that truth and the truth of God's unfailing love.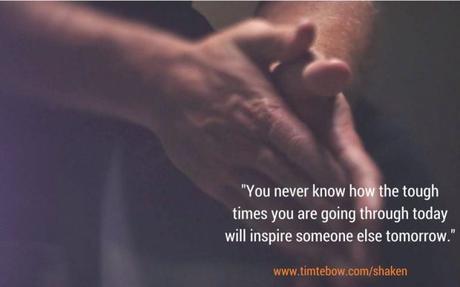 Do not miss this book – it is definitely a "must read" as far as I'm concerned.  I'm certain I'm even going to go back to the book and re-read certain pages when I need that proverbial 2×4 knocking me right between the eyes. It's that good. Thank you Mr. Tim Tebow!
In case you've never heard of Tim Tebow, let me tell you he is a two-time national champion, first round NFL draft pick, and Heisman trophy winner. Tim Tebow is currently signed to play professional baseball with the New York Mets and is a college football analyst for the SEC Network. Prior to joining the SEC Network, Tebow played three years in the NFL for the Denver Broncos, New York Jets and New England Patriots. In 2011, Tebow was the first quarterback featured in ESPN's "Year of the Quarterback" series. He later released "Through My Eyes", which was named the #1 sports book of 2011 and the bestselling religion book of 2011. Tim will be releasing a new book this October, "Shaken: Discovering Your True Identity in the Midst of Life's Storms" (WaterBrook). Tebow also contributes to a variety of ESPN platforms including SportsCenter, ESPN Radio, and the network's Heisman Trophy coverage. He is active in a variety of philanthropic activities through his Tim Tebow Foundation.
Tim Tebow grew up the son of missionaries, and even after moving to Florida as a child, he returned to the Philippines as a teenager–to spread God's word, and do the Lord's work, by serving the needy. He carried that calling with him to the University of Florida, where in addition to leading the Gators to two national championships, and winning the Heisman Trophy in 2007, he also devoted himself to charity–raising money for pediatric cancer patients and disadvantaged children.
In 2010, his vision took shape in the Tim Tebow Foundation. The Tim Tebow Foundation exists to bring Faith, Hope and Love to those needing a brighter day in their darkest hour of need. The foundation fulfills this mission every day by making dreams come true for children with life-threatening illnesses, building Timmy's Playrooms in children's hospitals, providing life-changing surgeries to children of the Philippines through the Tebow CURE Hospital, sponsoring Night to Shine, a nationwide prom for people with special needs, providing care for orphans in four countries and adoption aid grants for families who choose to adopt an international child with special needs.
Shaken is now released for sale as of October 25th.  To read more about this book or to order it, click here.  To read more about Tim Tebow, please click here.
I received a complimentary advance copy of this book in exchange for my participation on the book launch team!
~ ~ ~ ~ ~ ~ ~ ~ ~ ~ ~ ~ ~ ~ ~ ~ ~ ~

It would be great if you would stay connected with me!! You can follow me on Twitter @DebiL1611, like me on Facebook at 2014 and Beyond, circle me on Google+, follow me on Tumblr, Instagram and Bloglovin', subscribe on YouTube, or connect with me on LinkedIn and Pinterest.

Please make sure to visit my homepage and subscribe to my blog for more great posts on running, fitness and lifestyle topics as well as food, product, music and book reviews, and more!