I thought I knew everything about Dublin. Turns out I was wrong.
I love Dublin and rejoice in finding out new things about it so I was delighted when the publishers of Pól Ó Conghaile's new book Secret Dublin emailed me to see if I'd like a copy to have a look at. It turns out that if you look in enough little nooks and cranny's across the city you'll find some pretty cool stuff. With Secret Dublin in hand I set off, I've written below about some of the amazing things I came across.
The Chester Beatty Roof Garden
It was raining the day I visited so I wasn't holding out for any great photos. That was until I looked over the garden wall and seen the most beautiful rainbow. It nearly took my breath way!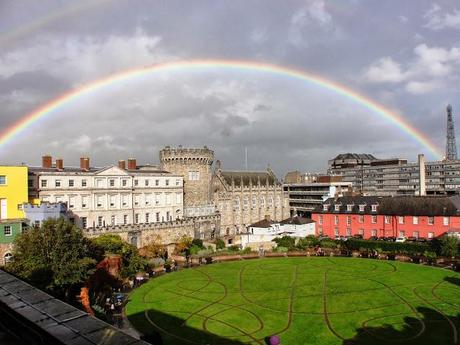 The Garden itself is quite small and compact but utterly silent. There are a number of little secluded spots to sit and relax. It would be lovely here on a summers day with a book or a newspaper. While I've always thought of the Dubh Linn Gardens as being an escape from the hustle and bustle of the city up here in The Chester Beatty Roof Garden you really do feel like you have run away from reality!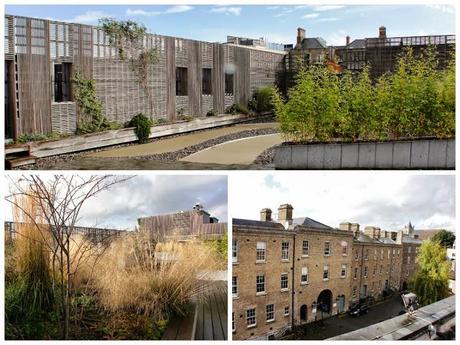 Sweny's Chemist
I have to admit when it comes to Joyce I'm pretty ignorant. I read Portrait in college but have never touched Ulysses. At least once a week I pass Sweny's Chemist but never realized it's relevance or gave it a moments thought until I stepped through the door recently. Inside it's shelves are filled with interesting curios, bric-a-brac and books. You can even buy a bar of soap just like Leopold Bloom did in Ulysses. I spoke with an enthusiastic volunteer who talked about the scene in the book were Bloom comes to the chemist. He also informed me of the Joyce readings that happen regularly on the premises. They welcome scholars and novices alike so maybe I'll invest in a copy of Ulysses and pop along!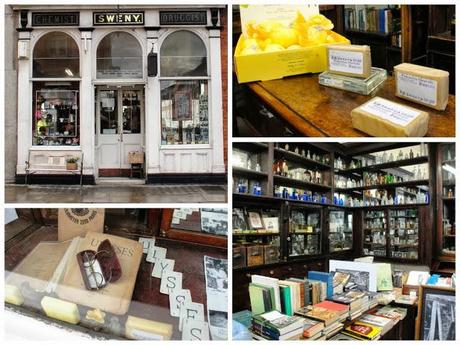 Challoner's Corner
There's really no way you'd ever stumble upon this little cemetery. It's tucked in between the College Chapel and The Buttery in Trinity. It's named after one of Trinity's first Fellow's Luke Challoner and other former Provosts and Fellows are remembered here too. It's very much "blink and you'll miss it" and even when you find it there's not a lot to see or do. It's the fact that it's so hidden and secretive that I love it.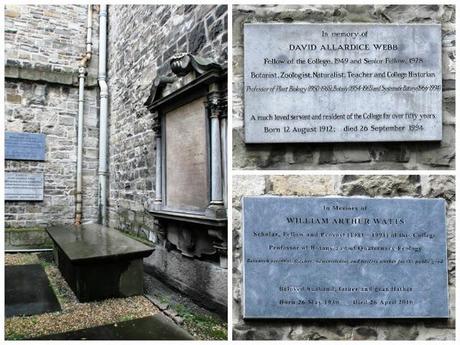 I have to say I was pretty chuffed to find that I'd already uncovered many of the gems already like Ye Olde Hurdy Gurdy Museum, The Cat and The Rat and The Burial Crypts at St Michan's Church. I was even happier though to find lots of things I had never heard of or visited. Besides the ones I've mentioned above I definitely have to visit Oscar Verne's Movie Theatre in The Ferocious Mingle Marcade, The Dillon Garden in Ranelagh and The Jewish Cemetery in Fairview which, according to Ó Conghaile, I'll be lucky to find open! I do love a challenge!
Secret Dublin is in shops from today at a price of €17.90. I'd recommend it for visitors and locals alike. You might think you know Dublin well but once you start leafing through this guide book you'll find you have a whole new city to discover.
Note : The publisher of Secret Dublin, JonGlez, provided me with a copy of the book free of charge so I could have a look at it and possibly review it. I haven't been paid for this review and the opinions expressed are my own.