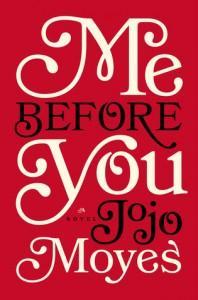 369 pages | Publisher: Pamela Dorman Books/Viking | Published: 12/31/12
You only get one life.  It's actually your duty to live it as fully as possible.
If you've spent much time around here you'll recall I'm in a book club with both of my daughters and a few other lovely ladies.  Although we missed having a June meeting, July found our merry band of sisterhood together discussing Jojo Moyes runaway bestseller, Me Before You.  It's difficult to visit any type of bookish site and not see the cheery red cover, although cheery and the contents do not quite mesh!
Louisa Clark loses her job at a cafe precipitating her to seek employment through the local job-search office.  After a few false starts and practically being arm-wrestled into accepting the position, Louisa agrees to become caretaker to cantankerous quadriplegic, Will Traynor.
As the novel unfolds, layers are peeled back on most every character from Louisa's chosen (or more like, non-chosen) life's path, Will's will (and non-will) to live as a quadriplegic, Will's wealthy parents and their motivations along with Louisa's common-class parent's motivations.  No one is spared including Louisa's personal trainer boyfriend and college dropout sister.  The nucleus; however, is always Will and Louisa.
Told mainly from the viewpoint of Louisa, or "Clark" as Will calls her, the novel appears more balanced ~ it's when Moyes throws in a chapter from Will's mother's perspective or that of Louisa's sister that the novel becomes a bit fragmented.  Typically, I enjoy reading a novel from differing viewpoints but as it was not done in a consistent manner throughout Me Before You I felt a bit disjointed.
A story of many subtleties that comes down to the choices we make and the effect those choices have on those we love.  Although there were no real surprises in Me Before You, the novel does lend itself to much discussion in a book club.  The writing tended to be a bit predictable but the plot-line and the lessons each character learns in order to grow and move on is truly what makes the novel memorable.  Recommend, especially for book clubs and Nicholas Sparks fans.
probably my favorite quote and personal motto~
I needed to tell him, silently, that things might change, grow, or fail, but that life did go on.  That we were all part of some great cycle, some pattern that it was only God's purpose to understand. . . . .A silent promise, if you like, that there was a bigger picture, a brighter future.
Disclaimer: I purchased this book to read and review.