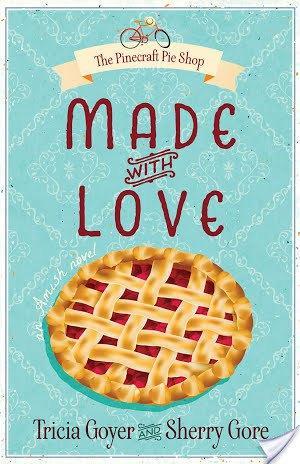 Made with Love by Tricia GoyerSherry Gore
Published by Harvest House Publishers on August 1st 2015
Genres: Christian, Fiction, Literary, Romance
Pages: 352
Goodreads


A Dash of Love, a Pinch of Hope, and a Whole Lot of Good Cooking Lovina Miller should be thrilled. Pinecraft, Florida, has everything a young Amish woman could ask for: sun, sand, volleyball games, and evening singings in the park. But Pinecraft lacks the one thing Lovina desperately wants–a pie shop of her own. She longs for a place to gather with the community and serve the treat she loves. A young carpenter named Noah Yoder strolls into her life and offers a way to make her dream come true. But before Noah and Lovina can build a shop–and a life–together, they must each face heartaches from the past. Is their new love stronger than their regrets? Find inspiration, romance, and authentic Amish recipes for everyone's favorite food–pie!
Just last week I read The Plain Choice, a book by Sherry Gore about her life and how she changed her life and became an Amish-Mennonite.  It was a very interesting read, but as I was reading it, I kept thinking I recognized her name and then I realized I had already received a book co-authored by her and it was sitting in my reading queue" to read. Made with Love by Tricia Goyer and Sherry Gore is the first in The Pinecraft Pie Shop Series.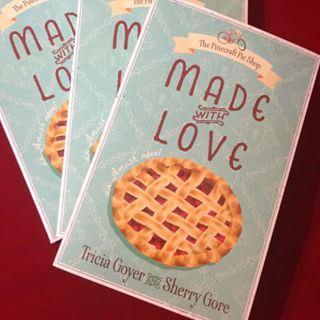 Pinecraft, Florida is an Amish community where many of the northern Amish families vacation and where some Amish call home year round. In the first installment this Pinecraft Pie Shop Series, Lovina Miller and Noah Yoder are the two main characters.  She is dreaming of opening a pie shop and he steps forward to help fulfill her dream, she wonders if he might also be the one who ruins it.
I love the simple romance between the two main characters. Both Lovina Miller and Noah Yoder are well developed characters and the authors show many layers to each of their personalities. Lovina seemed to be a very simple and easy to understand woman at the beginning, but later in the book we learn about old memories that hurt and wounded her many years ago that continue to affect her daily life. When Noah is introduced into the story, a glimpse of his past is shown along with the baggage that he carries from it, and then even more details about it are revealed throughout the story.
At the start of each chapter, there was a proverb to ponder. It was a great moment to sit and reflect before moving on with the story. At the end of most chapters there's a recipe – extra bonus there! You can't go wrong getting this book, from the sweet story to the added bonus of delicious recipes this book is a winner!
Authors Tricia Goyer and Sherry Gore made a great team in writing this book and these two gifted authors work so well together. They not only wrote a fiction book, but they gave profound wisdom of how we treat people, forgiveness and taking a leap of faith. I love how the topics of second chances, God's love and acceptance and trusting God were explored in this book as Lovina, Noah and others learned more about God. This story was about Lovina and her talent of baking pies, but each character has their own unique style and God given talent.
Thank you so much NetGalley for providing me with a digital copy of this book in exchange for my honest review and unbiased opinion.
~ ~ ~ ~ ~ ~ ~ ~ ~ ~ ~ ~ ~ ~ ~ ~ ~ ~

It would be great if you would stay connected with me!! You can follow me on Twitter @DebiL1611, like me on Facebook at 2014 and Beyond, circle me on Google+, follow me on Tumblr, Instagram and Bloglovin', subscribe on YouTube, or connect with me on LinkedIn and Pinterest.

Please make sure to visit my homepage and subscribe to my blog for more great posts on running, fitness and lifestyle topics as well as food, product, music and book reviews, and more!